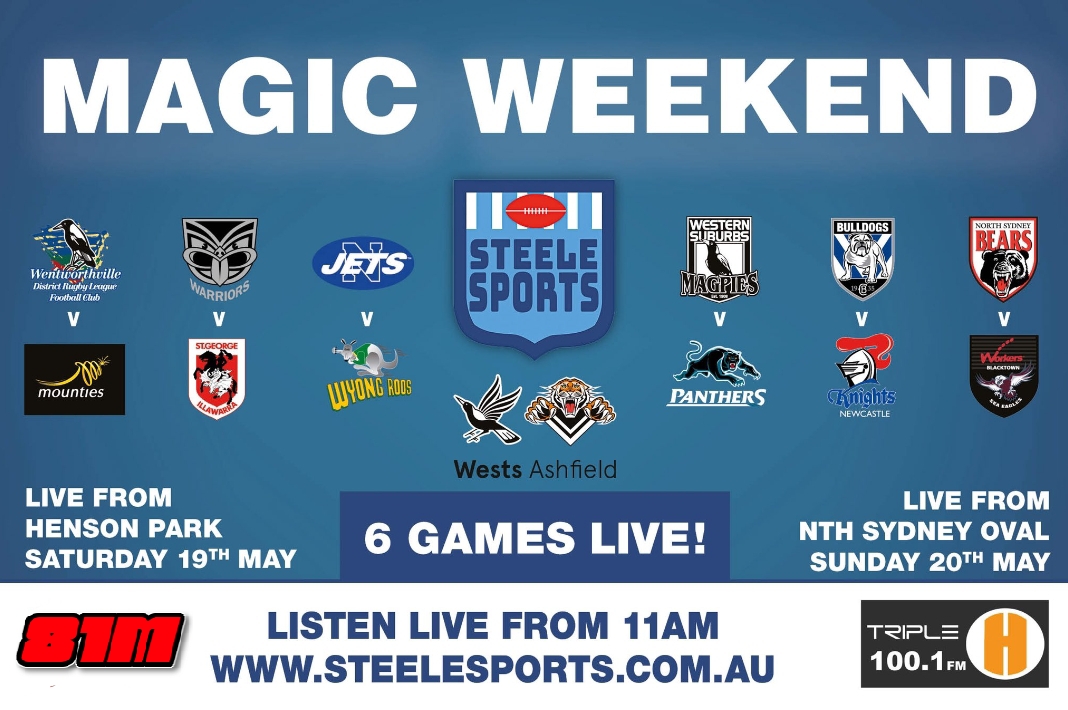 Steele Sports to present all six ISP games this weekend
May 16, 2018
BY SCOTT DILLON
Steele Sports will this weekend broadcast every game of the Intrust Super Premiership Magic Weekend round covering six games at historic venues Henson Park and North Sydney Oval.
It continues Steele Sports' unrivalled support of the NSW Cup.
Coverage begins Saturday at 11am when Mounties and Wentworthville clash in a battle of the West.
That will be followed by St George Illawarra and the New Zealand Warriors at 1pm local time (3pm in NZ).
Steele Sports finish day 1 when the Jets host Wyong.
On Sunday, Steele Sports will present Wests Magpies versus Penrith from 11am before simulcasting Triple H 100.1FM's calls of Canterbury versus Newcastle and Norths versus Blacktown.
That's 12 hours of sensational rugby league content.
"Steele Sports has once again proven it is the home of the Intrust Super Premiership," Steele Sports GM Talarico said.
"We will present all six matches of the round with some of the best up-and-coming callers in rugby league."
Saturday
11am
Mounties v Wentworthville
Callers: Curtis Woodward, Lewis Shepperd and Alby Talarico
1pm
St George Illawarra v Warriors
Callers: Luke Barry-Donellan and Daniel Cobby
3pm
Newtown v Wyong
Callers: Alby Talarico and Adam Newman
Sunday
11am
Wests v Penrith
Callers: Alby Talarico
1pm
Canterbury v Newcastle
Triple H simulcast callers: Mick Reynish, Keith Topolski, Jake Aqualina
3pm
Norths v Blacktown
Triple H simulcast callers: Tony Dosen, Keith Topolski, Jake Aqualina, Mick Reynish sideline eye
All live on steelesports.com.au