Diary of a traitor and why a defeated Australia is best for business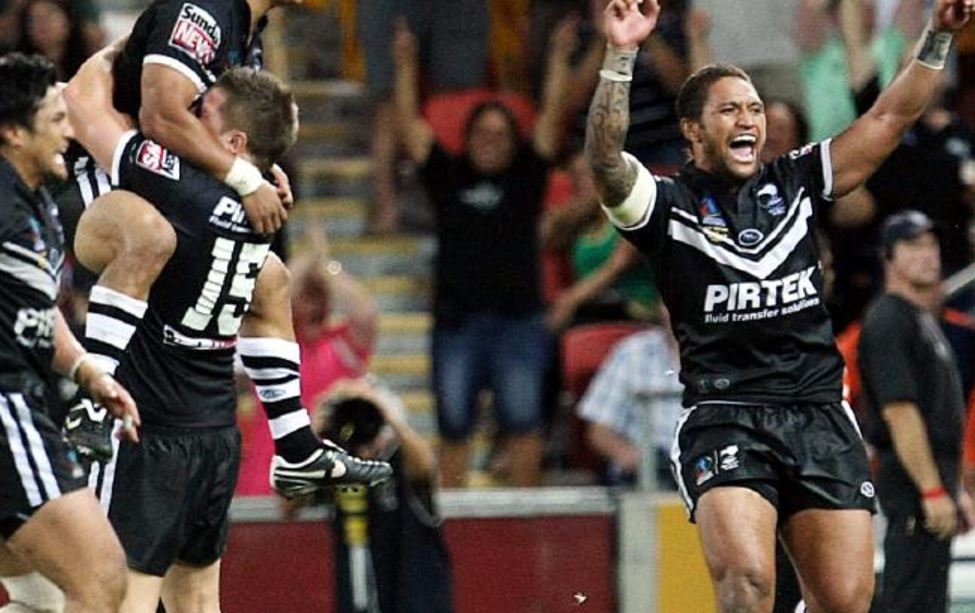 BY CURTIS WOODWARD
The Australian Kangaroos have had a mortgage on top spot in the rugby league world for an eternity. Okay sure, they did lose the 2008 World Cup, a series or two and the number one ranking for a short amount of time, but everybody knows they're the big dogs, right?
Long gone are the dominant days of Great Britain and Puig Aubert's French.
The glory of the 1972 British – who defeated the Kangaroos (sort of) – in Lyon to hold The Paul Barrière Trophy aloft for the very last time. History says that if Graeme Langlands' "greatest try never scored" was in fact, allowed, Australia would have won the Cup.
You could also argue that if Billy Slater doesn't throw the footy back into the field-of-play from the sixth row of Suncorp Stadium, Australia might just have won in 2008 too.
But that's footy.
A game of inches, what-ifs and maybes.
But this isn't a vortex into a distant past only remembered through grainy black-and-white footage and old newspaper clippings.
This is the story of an Australian rugby league fan, brought up on a gluttony of green and gold success, who has come to the realisation that the international game can't grow without Australia wallowing in the mire of defeat.
Don't worry, I'm prepared for the abuse. It's already been hurled this way countless times by a confused father and brother who go red in the face and snarl whenever I tip the Kiwis or Poms for an upset.
Australia must suffer for the good of the game.
Fifita informed Mal Meninga today of his desire to represent Tonga at the @RLWC2017.

GoTheRoos 🇦🇺 #RISE

— Australian Kangaroos (@Kangaroos) October 4, 2017
Your 2017 @RLWC2017 Australian Kangaroos Squad!#RISE #GoTheRoos 🇦🇺 pic.twitter.com/TYtkfIspsw

— Australian Kangaroos (@Kangaroos) October 2, 2017
The "Beaver" headgear has been stretched over the head, Dave Furner's pads draped over the shoulders and Big Mal's famous guards on both forearms.
Bring it on!
One day we might realise that a thriving international competition makes our sport and the NRL stronger. Forget that old NRL versus AFL debate or our own New South Wales versus Queensland Origin squabbles. Rugby league, linked together around the globe, is a formidable super heavyweight against any of Australia's other sporting codes. And before the union and soccer fans blow a gasket, let's put that in perspective. An internationally-inclusive NRL steps all over Super Rugby, AFL and A-League here in OUR country.
It looks like real change to our perceived notions of the game has been left in the hands of our Polynesian players.
In less than two days Jason Taumalolo and Andrew Fifita have done more to improve the competitiveness of the international game than we will ever know.
Money says Taumalolo and Fifita should be playing for the Kiwis and Kangaroos respectively.
Instead, they have put heritage first.
Both will play for Tonga.
"I really enjoyed my time within the Tongan World Cup squad last time and have had a long-time association with Tongan coach Kristian Woolf," Taumalolo said in a statement on Wednesday.
BREAKING: champion forward Jason Taumalolo has pulled out of Kiwi World Cup side to play for Tonga. details @telegraph_sport ASAP

— BUZZ ROTHFIELD (@BuzzRothfield) October 4, 2017
Wow Jason Taumalolo choosing Tonga over NZ… What a champion.

— Joel Thompson (@joel_thompson12) October 4, 2017
"I see with the new international rule change an opportunity to represent both Tonga and NZ throughout my career.
"I have and will always be proud to wear the Kiwis jersey. I just feel the World Cup provides developing nations like Tonga an opportunity to play on the big stage and I would like to help them with their campaign."
So here's to the death of the Kangaroos.
The downfall of Big Mal, Super Cooper, The Accountant and Billy "The Kid".
Here's to the rise of the Tongans, Samoans, Italians and Kumuls. The resurrection of the English, French and the Kiwis.
And here's to the 2025 Rugby League World Cup to be held in a faraway, remote Neverland called North America.
Off course no Kangaroos in the Final might just be as impossible as Tom Cruise landing safely on the front of a fast-moving helicopter but we can dream.
All we ask is that this World Cup brings as much joy as the last instalment to hit our shores in 2008.
Australia are favourites and will more than likely win the tournament but just consider for a second, just for a second, how wonderful our game could be when the time comes that they're not the fait accompli they are right now.