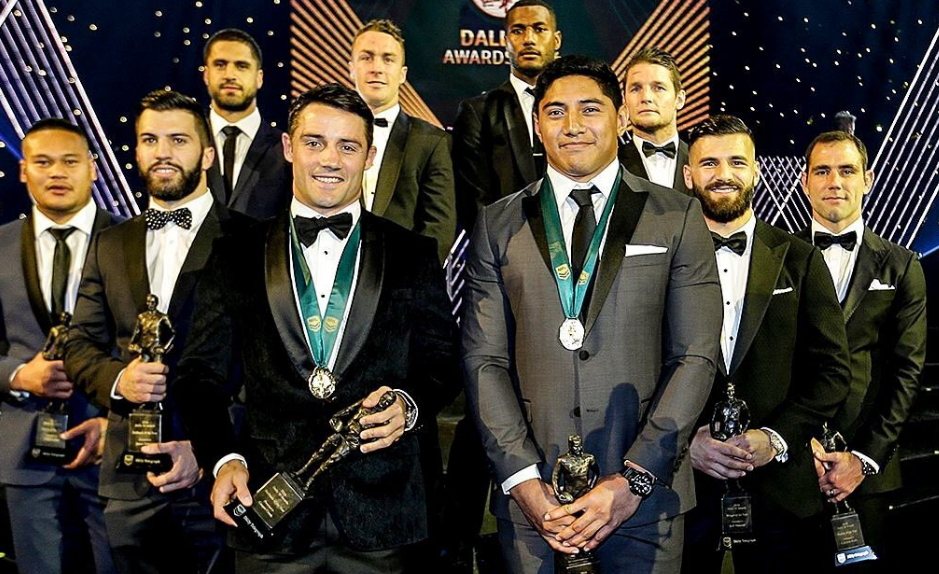 Flaw in Dally M Medal that makes mockery of annual Team of the Year
June 8, 2017
BY CURTIS WOODWARD
@woodward_curtis
Ask my dad Graham about the annual Dally M Team of the Year and he will take you on a journey of an angry, flabbergasted man. It doesn't take much to set the bloke off but the Dally M Team of the Year holds a very special place in his heart.
The reason for his anger is warranted because every year the same thing happens.
Take the 2016 awards for example.
Despite finishing equal 3rd overall on 19 votes, Brisbane maestro Anthony Milford missed out on Five-Eigth of the Year to James Maloney.
The 2016 #DallyM Team of the Year! #NRL pic.twitter.com/e9eYzV4gha

— NRL (@NRL) September 29, 2016
Ben Barba tallied 17 votes – making the top ten in the process yet James Tedesco was named Fullback of the Year.
In 2015, Benji Marshall amassed 21 votes. He was four clear of James Maloney and five clear of both Corey Norman and Blake Austin yet Austin received the Five-Eigth position in the Team of the Year.
It happens every season.
Why tally votes at all if the votes don't count?
Segue time!
The81stMinute's Player of the Year Award (this year sponsored by Steele Sports) has been running since 2012 and rewards its team of the year on how many points they actually tally.
🎆👑HISTORY! 3 Way Winners!
2016 Handyman Magazine Medal winners are Thurston, Taumalolo and Cronk! 🏆🏆🏆#HandymanMedal pic.twitter.com/BzPg46C0gh

— 81M (@The81stMinute) September 5, 2016
Ben Barba was named Fullback of the Year, wait for it, because he tallied more votes than any other fullback in the competition. Fancy that!
The only real difference is that The81stMinute names a full list of 13 players in the team rather than a "Winger of the Year" or "Prop of the Year".
So what would the The81sMinute Team of the Year look like if the awards were given out today?
Fullback: Darius Boyd
Wingers: Jordan Rapana and David Nofoaluma
Centres: Jarrod Croker and Dylan Walker
Five-Eigth: Gareth Widdop
Halfback: Mitchell Pearce
Props: Paul Vaughan and Andrew Fifita
Hooker: Cameron Smith
Second Rowers: Josh Papalii and Boyd Cordner
Lock: Sam Burgess
On a side note.. we have a pretty good strike rate when it comes to picking the right players at the business end of the season. And yes, we announce our winners long before Dally M night.
2016
Dally M: Cooper Cronk and Jason Taumalolo
The81stMinute: Cooper Cronk, Jason Taumalolo and Johnathan Thurston
2015
Dally M: Johnathan Thurston
The81stMinute: Johnathan Thurston
2014
Dally M: Jarryd Hayne and Johnathan Thurston
The81stMinute: Jarryd Hayne and Johnathan Thurston
2013
Dally M: Cooper Cronk
The81stMinute: Greg Inglis
2012
Dally M: Ben Barba
The81stMinute: Ben Barba
You can see all votes tallied so far for 2017 here