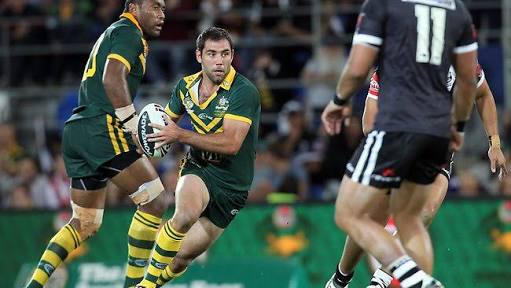 New Zealand no hope against Cameron Smith let alone the Kangaroos
November 18, 2016
BY CURTIS WOODWARD
Australian captain Cameron Smith is about to play his 49th match for the Kangaroos in the Four Nations Final at Anfield this weekend.
If you listen to Smith, he may play another 49.
The Melbourne Storm legend says while being away from his family is tough, playing for his country still gives him an almighty buzz.
"I'm still excited to get a jersey and have my name read out at the start of each week when Mal [Meninga] names the team," he said.
"It's a bit more difficult now because I've got three young kids and my wife at home and it's hard to leave those guys for six weeks.
"I love spending time with my family.
"But as far as playing and being around the team and playing in great stadiums and having victories, it's still as enjoyable as when I debuted back in 2006."
The Kangaroos are hot favorites to win the tournament and reclaim the world's number one ranking against an out of form New Zealand outfit.
It all comes down to Sunday – @Kangaroos v @NZRL_Kiwis

At the end of the storm, there's a golden sky 🏆 pic.twitter.com/d9FB0LZlZ3

— Rugby Football League (@TheRFL) November 17, 2016
📹 On the road with the @Kangaroos – #4Nations Week 3!#GoTheRoos 🇦🇺 pic.twitter.com/WPWBrklROY

— Australian Kangaroos (@Kangaroos) November 17, 2016
New Zealand drew 18-18 with minnows Scotland last weekend with reports from Scottish players that the Kiwis continously complained about the field during the match.
It makes you wonder where their heads are at. In October they were easily outplayed by Australia in Perth before losing to the Kangaroos to begin the Four Nations.
Their only win was against England and even that was by a solitary point.
Much has been made of New Zealand's forward pack but they've hardly lived up to expectations thus far while their backs lack the x-factor Australia possess.
Halfback Shaun Johnson is also struggling and desperately needs some support in the halves. It would take a man of the match performance from Johnson to get New Zealand across the line this weekend.
And then there's Cameron Smith. Mr. 49. The weaver, the architect.
Look out New Zealand, a green and gold blitzkrieg is coming your way and the man behind it will be one C. Smith.
@woodward_curtis