Land of the rising sun: When the Roosters and Sea Eagles clashed in Tokyo 25 years ago and how the Super League War made us all forget
July 27, 2022
BY CURTIS WOODWARD
Rugby league loves talking about growing the game. Matches in Hawaii, premiership blockbusters in China and competition showdowns in Los Angeles have all died as quickly as they were thought up.
So it is easy to forget – or not even realise – that the Sydney City Roosters and Manly-Warringah Sea Eagles travelled to Tokyo 25 longs years ago and played for the 'Revolution Cup'.

In November of 1996, the two sides enjoyed a ten-hour flight to the land of the rising sun.
On the back of work done to develop the code by former first grader Max Mannix (who played for the Bulldogs and Steelers in the 1980s and had interested from American NFL clubs as a rookie), a rugby league game was finally taken to Tokyo in '96.

But according to reports at the time, the event was funded by the East Japan Rugby League Association and their powerful chairman Teruki Matsunaga who had spent time in Australia as the coach of the Japanese at the Coca-Cola World Sevens tournament.
Even Japanese rugby league was torn down the middle with Mastunaga's ARL-aligned association in one camp and Super League's Mannix brothers (Max and Greg) in the other, who controlled the rest of the sport in Japan.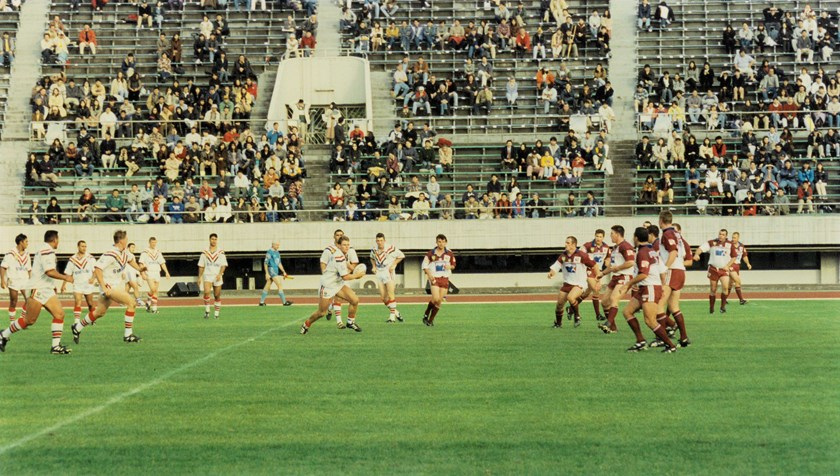 Televised into Japanese homes on Channel 12, the Roosters made the trip without regular captain Brad Fittler and coach Phil Gould with utility star Andrew Walker and club legend Arthur Beetson filling in the respective roles while Manly boasted a stronger outfit that featured the likes of Steve Menzies, Cliff Lyons, John Hopoate, Mark Carroll, Craig Field and David Gillespie.
A fair effort from the Manly boys coming straight off the back of a grand final victory over St George not long earlier.
It was also one of the rare occasions throughout their careers where neither Sydney City's Matt Sing or Menzies wore their famous headgears.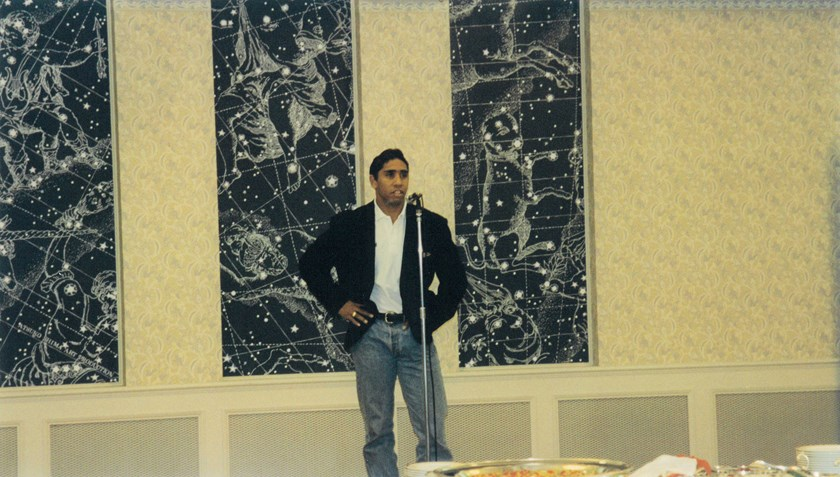 "The whole promotion is about giving rugby league free-to-air television exposure," said ARL official Bob Abbott.
With the match held at the 15,000-seat Komazawa Stadium, both sides selected a local player in their squads to raise interest and awareness of the sport in Japan's capital.
But like so many other expansion dreams of the time, it was folded up and tucked away as the ARL and Super League got back together to create the National Rugby League in Australia.
Mannix would become a successful screenwriter and director and make a documentary titled The Brighton Miracle which followed the journey of Japan's other rugby code, dating back to the Cherry Blossoms horror 145-17 defeat at the hands of the All Blacks at the 1995 Rugby Union World Cup, all the way through to their unbelievable shock win over South Africa 20 years later.
Who knows what rugby league would look like today without the Super League War.
For the record, the Roosters won the game 34-30 in front of 7136 slightly confused onlookers.