Cowboys coach Todd Payten has revealed why his side has been so dangerous in 2022 and on the cusp of first grand final in six seasons
1 min read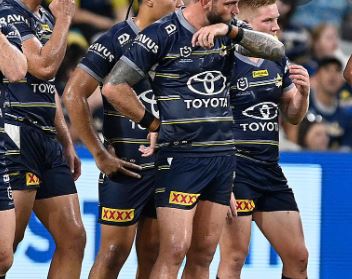 North Queensland coach Todd Payten has explained why his team has been so dangerous in 2022 and why they are on the cusp of their first grand final appearance since 2017.
And it simple.
His team play to their strengths and he coaches accordingly.
"We attack a little bit differently to most teams because it's driven by the players and they're playing to their strengths," Payten revealed during an appearance on the 'On The Ranch' podcast.
"When we're coming off a sideline and a winger is playing the ball… if the fourth man is right under the black dot or closer to the ruck.. we want to play long and go coast to coast," Payten began.
"Some teams will have a half who will kick-off, which means they don't have a half and a fullback in the defensive line, so it leaves them a little bit short on that long side. Some teams like to be shoulder-to-shoulder and chase the kick down so there's another cue.
"That's the type of education that we had to put into them over the past 18 months and Chad [Townsend] has been great in delivering a lot of those messages."