'Embarrassing argument': Phil Gould smashed for arguing NRL's best players shouldn't face lengthy suspensions for illegal play
3 min read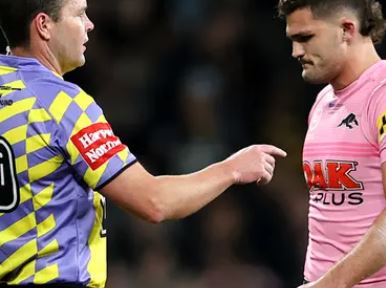 BY STAFF WRITERS
Channel Nine's Phil Gould has come under fire from fans after the veteran expert defended Nathan Cleary and questioned the NRL's decision to suspend the Penrith star for five weeks.
Cleary was sent from the field in Penrith's loss to the Eels when he placed his arm between opponent Dylan Brown's legs, lifted him and drove his head into the CommBank Stadium turf.
"I think the suspensions are too long overall with most offences," Gould told Channel Nine's 100% Footy.

"I don't think we need good players out of the game for six weeks to remind them that that's not what you do.
"That's just an error of judgement. I know this Penrith tackling technique very well, he's probably thinking his other two players would support that player a little better than they did.

"They pulled away from it and he found himself in an awkward position.
"Does Nathan Cleary need six weeks away from the game to learn his lesson that that's the wrong tackle to make?
"He knew it six seconds after he did it that it was wrong.

"They probably want to send a message to the rest of the competition, they want it to look like the star players don't get special treatment."
Many fans online reacted swiftly to Gould's comments.
"If that tackle was done by a "nobody" on Cleary, Gould would be calling for him to be suspended for life," one supporter replied on Twitter while another blasted: "Embarrassing argument, lucky he's not in charge of the justice system."
Dragons prop and former Australian representative Aaron Woods ripped those defending Cleary to shreds, which include the likes of Gould, Brad Fittler, Billy Slater and Darren Lockyer.
"Freddy and Billy Slater were coming out and saying 'he's a good bloke and we don't want to be missing these good players before semi-finals'… that's bull crap if you ask me," Woods began.
"He had a prior charge already on Billy Walters earlier on in the year. He would have got four weeks, but he had that and that's an extra week. Freddy came out and said that 'Liam Martin helped it a bit'. No he didn't. He pulled off the tackle and you see Cleary re-grip and get a hand in between the leg.
Beetson Raudonikis Medal 2022 – Round 20
"That's the difference between the one [and] with Karl Lawton at the start of the year. Lawton's tackle) was fully momentum, he got around the waist with both hands and it was just a driving tackle and luckily [Cameron] Murray twisted and landed in a really good position.
"Dylan Brown was still on the ground [and] you could see how hurt he was and he [Cleary] had all the intent."
The Panthers travel to Canberra to face the Raiders without Cleary and his partner-in-crime Jarome Luai who is out with a knee injury.