QRL chairman Bruce Hatcher fires back at 'Fatty' Vautin and offers to sign stat dec that Billy Slater was never offered Maroons coaching job
1 min read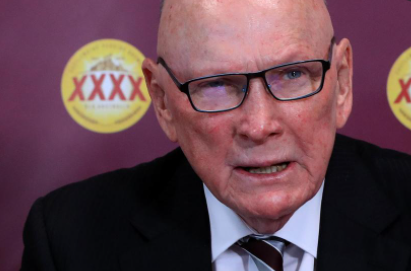 Queensland Rugby League chairman Bruce Hatcher has hit back at Maroons legend Paul 'Fatty' Vautin and recent claims from the FOG that Billy Slater was offered the coaching job ahead of Paul Green and then knocked it back when the QRL allegedly asked him to interview for the gig.
Hatcher has declared he would sign a statutory declaration that it never happened News Corp reports.
Vautin was a guest of ABC Grandstand's coverage on the weekend and revealed Slater told QRL officials to "stick their interview where the sun don't shine".
But Hatcher has fired back saying it just wasn't true.
"I don't know where he got the information from but I certainly can't corroborate the story," Hatcher said.
"I certainly know what I said.
'Roosters had a different idea': Ben Ikin explains why Broncos lost Sam Walker as rookie prodigy plays on with painkilling injections at the Chooks
"He was not offered the job outright by anyone who had the authority to make that decision.
"I will stand and do a stat dec for you if you want me to do that.
"That is how confident I feel about that statement."