'Massive mountain': 208 centimetre-tall Roosters fan 'monsters' over Sonny Bill Williams
September 4, 2020
BY STAFF WRITERS
Sydney Roosters fan Patrick Piliae sent the Sydney Roosters Supporter Facebook Group into meltdown on Tuesday after uploading a photo of himself posing with Sonny Bill Williams moments before SBW hit the training paddock at Moore Park.
Users were shocked to see the impressive Williams dwarfed by the 208 centimetre Piliae – a representative male netballer.
Piliae captioned the photo, "Squared of [sic] with the man himself SBW on his way to training today."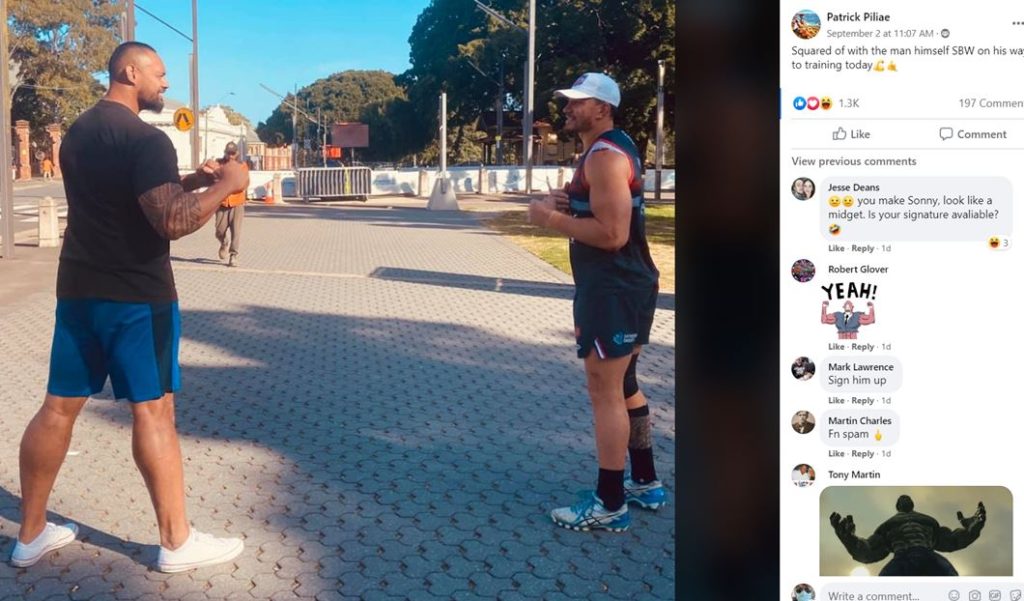 Some of the replies were classic.
"F*** mate, you super super heavyweight? You're a monster."
Another wanted to give him a contract: "Jesus Christ where have you been? We once signed a garbo. I'm happy if we sign you tomorrow."
Others were more worried about bystanders.
"Imagine the tradie in the background, thinking he's about to see Sonny Bill and some massive mountain square off."