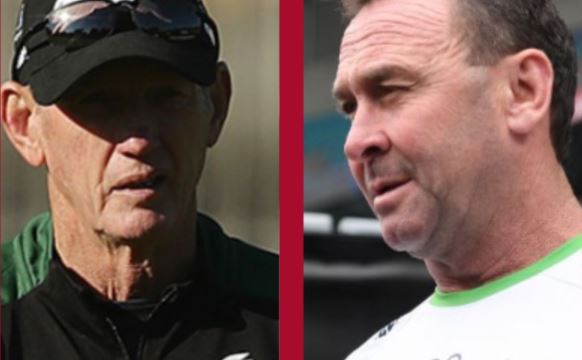 Ricky Stuart and Wayne Bennett give two of the all-time best sprays within matter of hours
July 1, 2020
BY STAFF WRITERS
Canberra coach Ricky Stuart has given one his best – yet controlled – sprays taking aim at disgraced player manager Isaac Moses, the NRL and rival clubs after it was revealed John Bateman would be leaving the club after all at the end of 2020.
Speaking to the media on Tuesday, Stuart ripped in and was clearly frustrated at the uphill battle the Raiders faced keeping Bateman at the club.
"To lose him really disappoints me, because here at the club we've worked so hard to build a strong roster and then you're getting players pulled out of it the way John has," he said.
"I'm disappointed with the way the game allows it – I feel as though the game need to help clubs in regards to how we have to deal with certain managers in how they agitate clubs and manipulate negotiations to suit them and them only.
"It's not always in the best interests of the player and it disappoints me because it is so hard to build a strong roster but I'm proud of the club that they took a stance and wanted to get a decision.
"The last thing we are going to be is a club such as the Broncos or Warriors. They've just been ruined by agitation and the manipulation of roster."
Meanwhile, South Sydney's legendary mentor Wayne Bennett hasn't pulled any punches as he slammed his former club Brisbane and his role in recent troubles at the former powerhouse.
The Broncos are on a five-game losing streak with Anthony Seibold and CEO Paul White copping plenty of the blame.
Bennett took aim at Brisbane after club officials recently blamed the former coach for much of the team's roster woes.
"I have shut my mouth since I left the club 18 months ago but I will not sit back and cop or tolerate them, the management at that club, trying to lay the responsibility on my feet for their poor decisions," Bennett told The Sydney Morning Herald.
"For the chairman to come out and suggest that I let the roster run down or whatever he was saying, is very insulting."
And in another interview, Bennett pulled the trigger on Seibold.
"Seibold has 12 players with Origin or Test experience," he said to The Courier-Mail.
"What are we talking here? We are being lost in the smoke-and-mirrors.
"There is a lot of talent there under Seibold but no-one is playing to their talent."