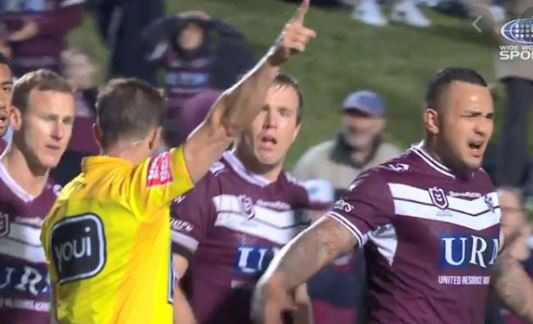 Fonua-Blake apoligises for calling referee Atkins a "f****** retard" in Manly loss to Knights
July 6, 2020
Manly prop Addin Fonua-Blake has apoligised to referee Grant Atkins for calling him a "f***** retard" in the Sea Eagles loss to Newcastle on Sunday.
Fonua-Blake was reacting to a decision made by the video referee not to award the home side a penalty late in the match with Fonua-Blake rightfully sent off.
"Manly Warringah Sea Eagles prop Addin Fonua-Blake has tonight apologised unreservedly for his actions following the loss to the Newcastle Knights," a statement from Manly read.
"After returning to the dressing sheds, Fonua-Blake was very remorseful and sought permission to personally apologise to referee Grant Atkins which he then did."
Fonua-Blake will most likely face sanctions from the NRL for the outburst.