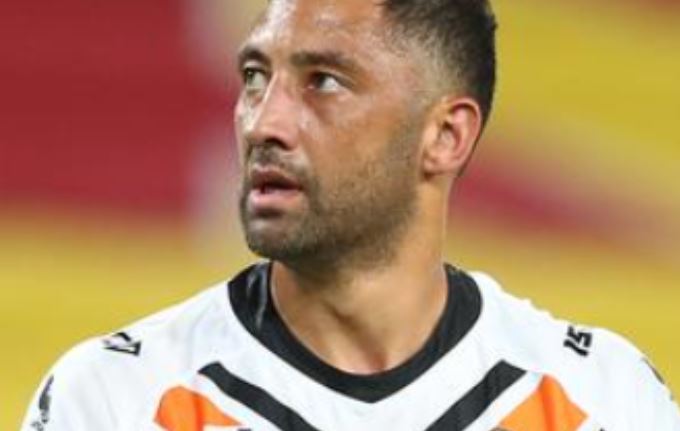 312-game Golden Boot winner Benji Marshall dropped after one bad showing but Luke Brooks remains a protected species
June 10, 2020
BY CURTIS WOODWARD
Benji Marshall had a shocker on Sunday night against the Gold Coast Titans and Wests Tigers lost a game they should have won. These are the facts and they can't be disputed.
The Kiwi legend and the club have been here before… win a few games and then come up against a side they should beat.

It was just like clockwork.
Fans met darkness once again.
At least they're back in the warm blanket they know as 9th place.
Benji had a bad game.
He lacked energy and leadership. His defensive efforts weren't NRL standard.
But if anyone deserves a pass in this Wests Tigers squad of 2020 after one bad game, it's the guy that's consistently been their best for quite some time. The bloke that won a premiership for the club. The kid that won New Zealand a World Cup. The former Golden Boot. Benji Marshall and all 312 of his first grade appearances.

Coach Michael Maguire wanted to give his side a kick up the arse.
There were plenty of ways to do it.
This wasn't it.
"It was a tough one, he called me into his office this morning (Tuesday) and I was a little bit shocked and disappointed that I got dropped," Marshall told Fox Sports' NRL 360.
"Any player would be in that position, if you're competitive and you want to be a part of a team of course you're going to be disappointed.

"But Madge is the coach and he talked about making a change and if you look at last week's game I probably led us home when we got to a lead and sort of game managed us to get home against Cronulla.
"And against the Titans we got to the same lead and I failed to do that with a seven-tackle kick and another error.
"I just need to be better and I understand where he's coming from. I've just got to train hard again and show them what I've got to get back in the team."
If that's all it takes for a mercurial playmaker to cop the sack then every other halfback in the competition should be running for the hills.
Josh Reynolds is a fine player but an orginisational player he is not.
It appears Luke Brooks is a protected species.
"We're lucky we've got the depth where Josh is an Origin player and he's been training really well underneath us and he'll come in and do a good job," Marshall continued.
"And I suppose what the coach has done is put everyone on notice that we're looking for consistency and you can't go up one week and down the next week."
You can't see Marshall being out of this side for too long, especially if Maguire is going to keep pulling the trigger like that.
The coach might be frustrated but it has just as much to do with the quality of the stock rather than one veteran who had an off night.