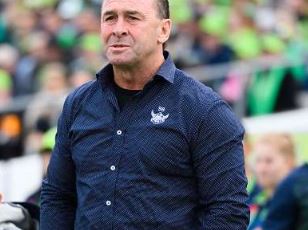 "Sick of coaches getting what they want": Raiders boss Ricky Stuart hammers rivals in all-time blast
May 15, 2020
BY STAFF WRITERS
Canberra Raiders coach Ricky Stuart has backed the NRL's rule changes ahead of the season restarting taking a shot at rival coaches in the process.
The NRL has announced two changes including going back to one referee and a 'six again' rule that will see a team get an automatic six more tackles instead of a ruck penalty.
"I'll support what Peter [ARL chairman Peter V'landys] and the commission are trying to achieve, because I don't like the way our game is heading," Stuart told The Sydney Morning Herald.
Stuart then blasted his colleagues in the coaching fraternity saying he was "sick of coaches getting what they want".
"Personally it goes against what I think rugby league should be about," he said.
"The game is heading down the path of becoming too defence-orientated and boring.
"We are at a very critical point at this moment, and we need to make the game more entertaining, and future-proof it for our next generation.
"I'm sick of coaches getting what they want. Because coaches will never have the good of the game as their first priority.
"There is way too much self-interest in this game. What's good for one club might not be good for the game."