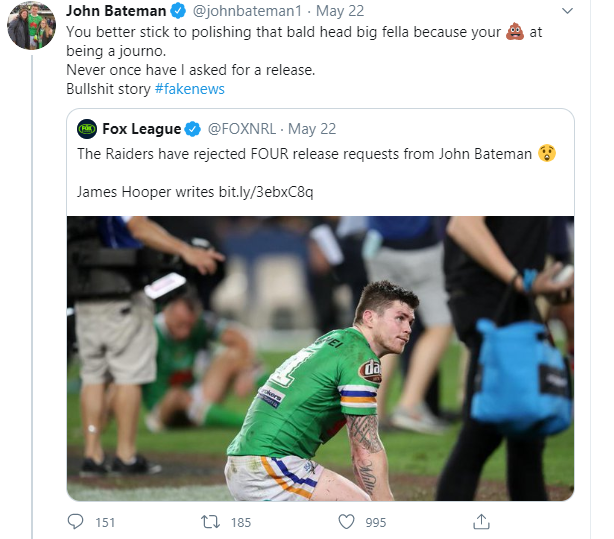 John Bateman massacres Fox Sports journalist James Hooper with one single tweet
May 22, 2020
BY STAFF WRITERS
Canberra Raiders star John Bateman has destroyed Fox Sports and their leader journalist James Hooper with one simple tweet which sent Twitter into meltdown on Friday night.
Bateman was responding to a report from Hooper on foxsports.com.au that the English International had recently approached the Raiders for a release on four separate occasions as he apparently wanted an upgrade on his contract.
Quickly becoming one of the best characters in the NRL, Bateman lined Hooper up on Friday evening and didn't miss.
Goat tracks and Datsuns: How do the haughty upper-crust lords of rugby league continue to get Campbelltown so wrong?
"You better stick to polishing that bald head big fella because your [sic] shit at being a journo. Never once have I asked for a release. Bullshit story #fakenews" Bateman tweeted.
Bateman's post has 500 retweets, over 2500 likes and counting.