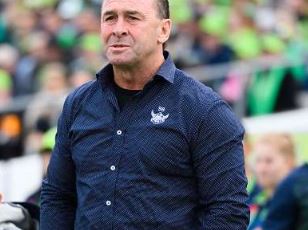 'I don't even think Channel Nine like rugby league': Ricky Stuart savages broadcaster
May 21, 2020
Canberra Raiders coach Ricky Stuart has blasted Channel Nine after it was confirmed the 2019 grand finalists would only be seen three times on free-to-air in 2020 questioning whether "Channel Nine like rugby league".
"Ever since I've been back in Canberra this has been very common and shows me that Channel Nine doesn't like the Canberra Raiders," Stuart told News Corp.
"Actually, from communication over the last month, I don't even think Channel Nine like rugby league."
Goat tracks and Datsuns: How do the haughty upper-crust lords of rugby league continue to get Campbelltown so wrong?
The outspoken Raiders boss said he felt sorry for the fans.
"Look, to be quite honest, I wouldn't know if we are on free-to-air or pay TV. It doesn't really concern me. I am not commercially minded.

"But in respect to our appearances on Channel Nine it is pretty much the same every year for us. But where is the reward for our sponsors and our fans to watch us on free-to-air after making the grand final last year?"