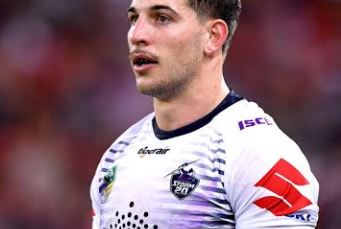 'He's contracted': Curtis Scott has unfinished business in Melbourne says Cameron Smith
November 19, 2019
BY STAFF WRITERS
Melbourne Storm captain Cameron Smith believes young gun centre Curtis Scott has unfinished business in Bleak City despite reports Scott is close to agreeing to terms with rivals Canberra.
The centre is contracted to the Storm for 2020 and 2021 but it is believed Melbourne wouldn't stand in his way if the Raiders deal was attractive enough.
"I'm not too sure about Curtis' personal situation at the moment and his thoughts on playing with the Storm next year but my understanding is that he's contracted for 2020," Smith told AAP.
"With Will Chambers now going to Japan, it's the perfect opportunity for him to cement that spot."
But Scott's manager Sam Ayoub confirmed recently he had two more years to run on his deal with The Canberra Times reporting the Raiders had met with Scott.
"He (Scott) had his own issues last year with injury which plagued his year unfortunately, but he finished the year as our centre so he should be looking to build on that."