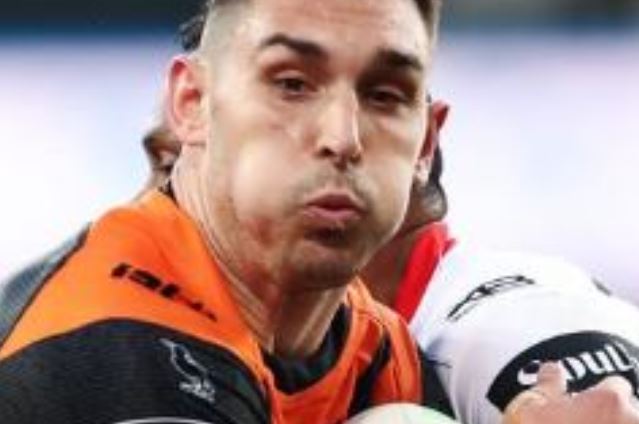 'F*** Joe Smith and his kids': Ryan Matterson will be at Wests Tigers in 2020…and pigs fly
September 19, 2019
BY CURTIS WOODWARD – EDITOR
Firstly, let us give Ryan Matterson the benefit of the doubt. Let's cross our fingers and hope, whatever it is Matterson is going through, he's okay. After all, it was his club who announced on Thursday that they had granted him "leave".
It could be a deeply personal matter. Perhaps Matterson needs a break. It could be a mental health situation and if that's the case, take all the time you need, sir.
Rugby league fans have been whipped and beaten, dragged face first over the gravel and bludgeoned to a pulp. But they are still an optimistic bunch. They want to believe in their heroes.
But in the NRL, if there's smoke, there's a raging inferno.
Wests Tigers released a very short statement on Thursday regarding their star forward.
"Wests Tigers forward Ryan Matterson has requested a leave from training for the remainder of the 2019 season due to personal reasons," it read.
"Wests Tigers have granted this request.
"The club will be making no further comment at this time."
On its own…fair enough.
Let's move on with our day.
But this, right here, is the smoke.
Let's not hammer Matterson…yet. It isn't the young second rower's fault. He is merely a cog in a broken system. And we're not talking about Wests Tigers this time. We are talking about the endless, ridiculously obscene cycle between club, player and player manager.
Ryan Matterson was a good 17th man at the Sydney Roosters.
A tadpole in a deep blue sea.
He yearned for an opportunity to prove himself and he jumped ship to Wests Tigers on a fairly respectable pay packet. More importantly, he wanted to play his preferred position.
He headed across to Wests Tigers and became a shark.
So in a situation like this, who blows the smoke across the dry grass?
The source is a thousand whispers. Sweet nothings. Pumping up of one's tyres. When everybody around you is telling you deserve more, that you're the best player in your team, that they couldn't do it without you, what else are you meant to think?
Maybe it's not that.
Perhaps the player has his head screwed on. Is a team guy. Loves his mates.
It could be the manager.
In fact, scratch that, the manager is almost always there.
'Let's do this'
'We'll squeeze 'em for a bit more now, aye?'
'F*** 'em! They've got the coin!'
'If they don't upgrade ya, I'll get on the blower to the coach of the other mob. He's one of mine. We'll get you in there and you'll make more!'
Then there's another option that fans really don't want to hear.
At the end of Joe Smith's week, he comes home, grabs a beer and wearily jumps in the shower. He puts his $150 club jersey on, slides his membership lanyard down over his neck and puts his kids in the car. They too are wearing jerseys. They're not cheap either. Joe parks his car and walks his kids into the ground. The kids are hungry so he opens his wallet again and again and again. Every year is the same.
Preliminary final footy comes a weekend early with four teams left standing in the Canterbury Cup
Joe Smith expects a bit of loyalty in return.
But does he get it?
'Player X has gone to another team, kids. Sorry. Find someone else to put up on your wall'.
Old Joe Smith doesn't want to hear that Player X is being an arsehole.
He doesn't want to know Player X is carrying on like a baby because he thinks he's worth more than he is. How does Joe explain that to his kids?
Player X doesn't care about the contract he signed.
Broncos players did nothing wrong: Josh Reynolds sticks it up politically correct do-gooders
He just wants more now.
Give me the money I THINK I deserve.
Matterson's management, headed by Chris and Gavin Orr, have reportedly met with Wests Tigers asking to negotiate with other clubs because Matterson is under contract until the end of 2021. They can't "negotiate" without "permission" from the current club.
How can other clubs be 'circling' if they're not already talking?
It's a no-win situation for Wests Tigers.
F*** Joe Smith and his kids.
Money never sleeps, baby.
Oh but let's be optimistic.
Maybe Ryan Matterson will be at Wests Tigers in 2020.
And pigs fly.