Twelve stars of the 1970's announced for The81stMinute Hall of Fame
BY STAFF WRITERS
Fox League is going retro this week so we thought we'd jump on their hefty coattails and go along for the ride. And hey, we haven't updated our Hall of Fame for a while so why not blow off the dust and get some more deserving legends in?
We've picked a player from each of the 12 clubs that participated in first grade in the 1970's… enjoy!
Eastern Suburbs Roosters
Russell Fairfax
A Wallabies convert who joined Eastern Suburbs with instant success. With his flowing locks and mesmerising talent, Fairfax quickly became a poster boy of the premiership. He won the 1974 grand final but missed the '75 decider with a broken leg which ultimately saw him miss out on selection for Australia.
North Sydney Bears
Tim Pickup
An Australian and New South Wales representative half, Pickup was first seen playing touch footy in a London park. He was quickly signed by St Helens. Arriving back in Australia, the playmaker linked with the Bears. Pickup would go on to enjoy more success when he signed with Canterbury for the 1975 season.
Manly-Warringah Sea Eagles
Terry Randall
One of the most feared players of the 1970's, Randall played 13 games for Australia and 12 for NSW. The hard-hitting second rower helped steer Manly to premierships in 1972, 1973, 1976 and 1978.
St George Dragons
Ted Goodwin
A truly instinctive player, 'Lord' Ted Goodwin could do anything on a footy field and usually did. Goodwin scored one of the great grand final tries in the drawn '77 decider when he chipped and cased, regathered and scored just inside the dead-ball line, only to knock himself out in the process. He'd return a week later for the Saints in the win over Parramatta.
Cronulla Sharks
Tommy Bishop
The arrival from England in 1969 of Tommy Bishop immediately changed the perception of the Cronulla Sharks to the rest of the premiership. Within twelve months, Bishop was captain-coach and the Sharks would go on to appear in their first grand final in 1973.
South Sydney Rabbitohs
Bob McCarthy
Remarkably, McCarthy has only now just found himself in The81stMinute Hall of Fame due to several different factors including fan votes. One of the greatest Rabbitohs to ever play the game, McCarthy won four titles with Souths and captained Australia on one occasion.
Balmain Tigers
Allan McMahon
A former Tigers skipper, McMahon represented Australia on the 1978 Kangaroos Tour. McMahon went on to coach Canberra, Newcastle and Illawarra. McMahon sadly suffered a heart attack in 2003 and passed away at just 48.
Western Suburbs Magpies
John Donnelly
John 'Dallas' Donnelly's name is synonymous with rugby league in the 1970's. A bruising Magpies enforcer on-field and a larger-than-life character off it, Donnelly tragically lost his life at just 31 while surfing in Byron Bay after an epileptic seizure.
Parramatta Eels
Neville Glover
An Australian and NSW winger, Glover played 118 games for Parramatta up until leaving the Eels at the end of 1981. He received the Order of Australia for services to Rugby League in 2018.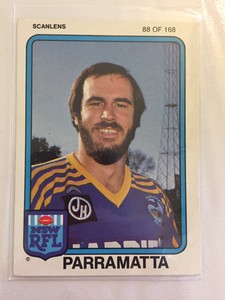 Newtown Jets
Lionel Williamson
A product of Innisfail in Queensland, Williamson played for QLD and Australia before signing with Newtown for the 1969 season. Williamson played 112 game for Newtown up until he retirement in 1974 and is the grandfather of current Sydney Roosters prop Lindsay Collins.
Penrith Panthers
Grahame Moran
An inaugural member of the Penrith Panthers hall of fame, Moran could play in the halves or in the outside backs and made his only appearance for NSW in 1970.
Canterbury-Bankstown Bulldogs
George Peponis
Dr George Peponis debuted for Canterbury in 1974 and would make his debut for NSW just two seasons later. Peponis would go on to captain his country and finish the decade in a grand final loss against St George. A year later, the Australian captain would also lead his beloved Bulldogs to grand final victory over the Roosters.