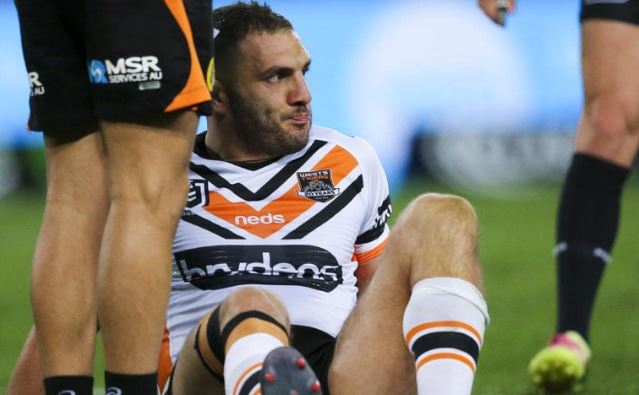 Team first or fairy tale ending? What does Michael Maguire do with Robbie Farah if a finals berth is on the line?
August 20, 2019
BY SCOTT DILLON
Here is a prickly question sure to cause divide between Wests Tigers fans. What does coach Michael Maguire do with Robbie Farah if the retiring veteran can make a miraculous return from injury with a finals spot on the line?
A heap of things need to go right for Wests Tigers to even get to that position.
Right now they sit 11th and need to keep winning. That starts with a crucial clash against Newcastle this Saturday at Campbelltown.
Farah is gunning for a miracle and has made no secret he wants to play the round 25 game against the Sharks at Leichhardt Oval. This despite fracturing his tibia a few weeks back.
"Bone fractures needs a minimum four to six weeks to heal, and bigger bones take long, and the tibia is a bigger bone," highly-respected doctor Nathan Gibbs told The Sydney Morning Herald recently.
"It's also the main load-bearing bone and where the main body-weight pressure goes through.
"If Robbie did try to play on with a crack in his tibia, he then runs the risk of completely fracturing the bone."
Surely there is enough money for the common people of rugby league if the NRL can afford a $15,000 diamond ring for Cameron Smith's wife
Let's say Wests Tigers get through the next few weeks and they have a chance to claim their first playoffs appearance since 2011. You could assume in that time, Farah's expected replacement Josh Reynolds has done a pretty good job. Better still, he's fit and healthy. Rookie Soni Luke is another option to come into the squad.
It all rides on a win against the Sharks at Leichhardt (if they beat the Knights and St George Illawarra before that).
'Best fans in the competition': Raiders pushing for another monster crowd this weekend
Can Maguire risk a spot in the 17 by playing Farah?
How fit will he be?
"I've got my head around it all and accepted the fact I probably won't play another game," Farah said on Monday.
"But at the same time I'll do everything I can to defy the odds and get back out there."
Should it be Farah's call?
Does Maguire put the team first?
Farah has been a legend of the Wests Tigers club but not everybody gets the fairy tale ending.