Fans don't boo nobodies: How the great Paul Gallen made a career out of being hated by the masses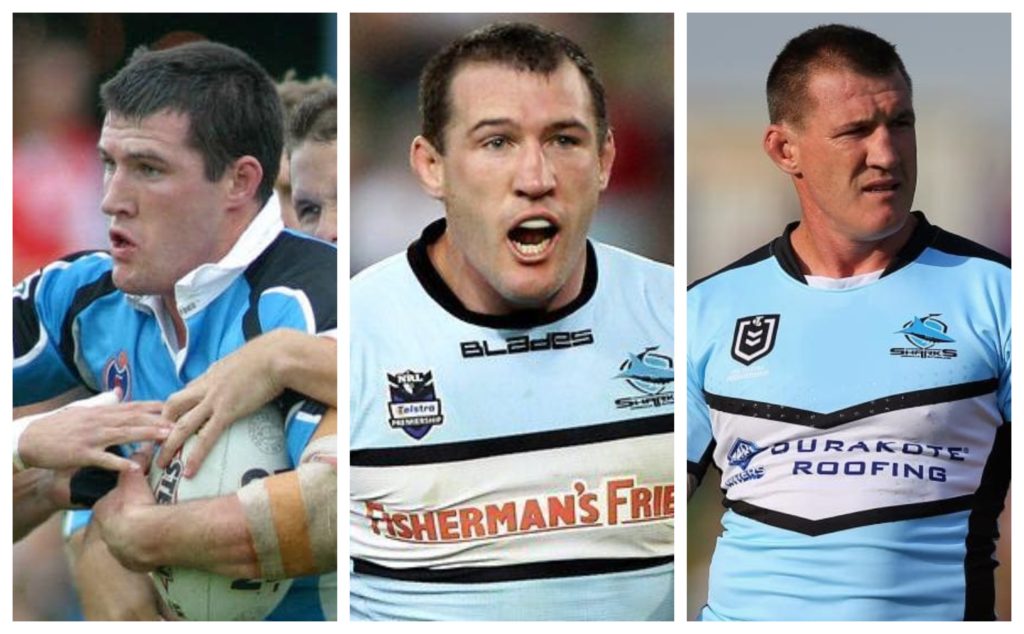 BY CURTIS WOODWARD – EDITOR
Baseball legend Reggie Jackson once said, "fans don't boo nobodies." Cronulla Sharks warhorse Paul Gallen has lived by this credo.
He's understood the role he's had to play. One week he's loved and admired as he goes about his business in the Shire. On Saturday or Sunday he rolls into Shark Park and leads his beloved footy team out in front of thousands of adoring fans.
The next week he's Darth Vader. An arch villain. On the road – despised, hated.
But has anyone done it better?
Gallen lives for the jeers.
It lets him know he's still a somebody.
And how remarkable is his story.
For someone that has played the game as physically as him, it truly is unbelievable to think he debuted way back in 2001.
Back then, John Howard was still Prime Minister, Big Brother aired in Australia for the first time while Steve Waugh's cricket side hammered England 4-1 in the Ashes. It's also the year that terrorists hijacked planes and flew them into the World Trade Center in New York and changed the world forever.
It's hard to believe Gallen was playing in the NRL way back then.
He lived through the Queensland State of Origin dynasty, survived years of horror seasons at the Sharks. The porch light blazed.
But then on one magical night in October 2016, a siren sounded after 80 minutes of footy.
Knightmare! 'One of the worst performances I've ever seen in that position'
That siren ended Cronulla's hoodoo. Gallen and Sharks blood brother Andrew Ettingshausen embraced in the middle of ANZ Stadium. Both cried. This was Cronulla's night. Gallen's emancipation.
Nobody is disputing Gallen has detractors.
Time heals all wounds and people will remember the warrior.
A God to his fans…the guy they booed everywhere else.
Just like they did to Wally Lewis.
After 19 seasons, Paul Gallen will lug his 38-year-old body out on to Shark Park this Sunday for the last time when Cronulla host the high-flying Raiders.
"No tears beforehand," Gallen told NRL.com.
"Honestly, I'm just worried about the result.
"People have been asking me if I'll get emotional and it hasn't been that way yet really, although the Warriors were really nice to me today (after last weekend's win).
"They congratulated me and thanked me. I thought that was pretty cool.
"I just want to win next week and make the semi-finals. To not make the semis, not so much because it's my last year, but because of the roster we have would be a failure I think. There'd be no hiding away from that.
"That's what I want to do – just get to the semis because it's a whole new competition.
"So from this week all I want is the result, to beat Canberra."
And who is going to question the big fella?
Why wouldn't he be thinking Cronulla can win the premiership?
This Sunday won't just be Gallen's last on home soil.
It is, of course, the last match played at Shark Park before renovations begin.
The Sharks won't be back until 2022.
Gallen will be 41 by then and long retired.
Perhaps by then, opposition fans will replace boos and jeers for a smile and a thumbs up?
Let's not be silly.
Paul Gallen wouldn't have it any other way.
I'll be at Henson Park on Saturday calling the Newtown Jets versus Newcastle clash for steelesports.com.au – kickoff from 3pm