Veteran journalist reveals he helped Robbie Farah get a former Wests Tigers coach sacked
BY CURTIS WOODWARD
@woodward_curtis
Veteran journalist Tony Adams, aka 'The Mole', has reopened old wounds as his feud with retiring Wests Tigers legend Robbie Farah goes on.
The Mole on Tuesday shared a fan's post on social media not long after Farah announced he would be retiring at season's end. The original post said, "Great player. Pretty average bloke."
That Tweet was then quoted by The Mole who wrote: "Think that sums it up."
The bitterness goes all the way back to 2014 after then Wests Tigers coach Mick Potter was axed by the club after a player revolt. There had been strong rumblings throughout Potter's tenure at Concord of a disconnect between Potter and certain players.
On July 17, 2014, The Mole wrote a story for the defunct Rugby League Week reporting Potter was on borrowed time and Wests Tigers players were "throwing their support behind Todd Payten".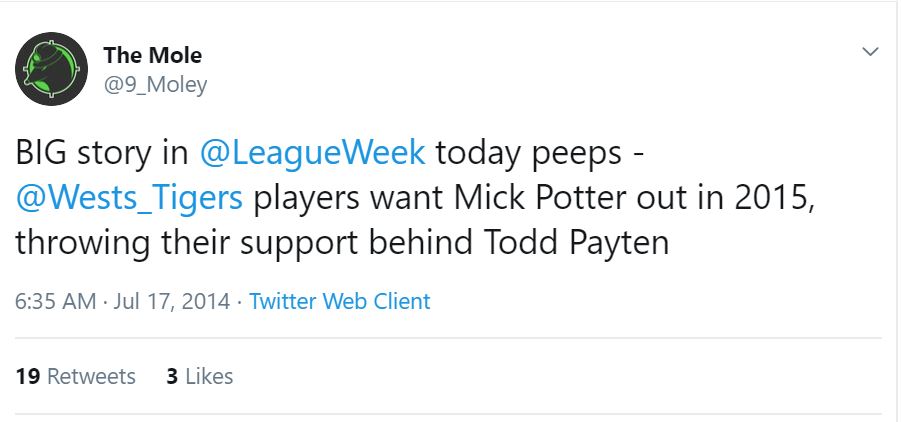 Farah was then forced to deny a few weeks later that he told Triple M's Gorden Tallis that Potter 'couldn't coach'.
By the end of September, Potter was gone.
"We certainly had our issues through the year and I tried to address them as best I could," Potter told The Sunday Footy Show at the time.
"But it wasn't just about trying to please Robbie, it was about trying to get the best out of our team and sometimes that doesn't rub too well with him [Farah]."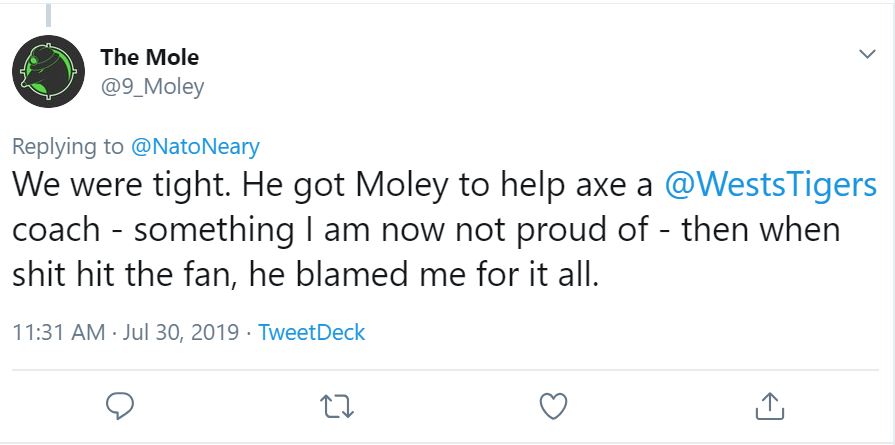 Replying to a fan on Twitter, Adams explained the hostilities between the pair.
"We were tight," The Mole said of his relationship with Farah, "He got Moley to help axe a @WestsTigers coach – something I am now not proud of – then when shit hit the fan, he blamed me for it all."
Adams reportedly approached Farah at Redfern when the hooker first joined South Sydney in 2017 where The Mole offered to bury the hatchet with a handshake. Farah refused.
@woodward_curtis