Raiders versus Broncos Under 20's grand final, eleven years on: Where are they now?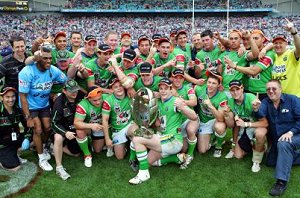 BY CURTIS WOODWARD
@woodward_curtis
It has been eleven long years since the Canberra Raiders and Brisbane Broncos clashed in the first ever Under 20's grand final at Homebush's ANZ Stadium.
The NYC soon became the coolest new fad in rugby league.
Some of the game's best current talent emerged from this grade.
But what about that first grand final?
The Raiders and the Broncos.
Some of these players like Jarrod Croker, Josh Dugan, Josh McGuire, Ben Hunt and Andrew McCullough have gone on to do amazing things in the NRL.
We also have bull riders, bikies and professional wrestlers!
Check it out below.
CANBERRA RAIDERS
Josh Dugan: An Australian and New South Wales State of Origin player who left the Raiders in 2013 for St George Illawarra. Is currently at Cronulla.
Drury Low: Played two first grade games for Canberra in 2010 and a handful for Canterbury in 2013-2014. Now calls fullback home at Tuggeranong in the local Canberra competition.
Jarrod Croker: One of Canberra's all-time great players. A prodigious points scorer and current captain of the Raiders.
Daniel Vidot: Became a bit of a rugby league journeyman after debuting for the Raiders NRL side. Signed by the WWE and is training to be a professional wrestler.
Michael Brophy: Halfback for Tuggeranong in the Canberra Raiders Cup.
Michael Picker: Played four NRL games for the Raiders between 2011 and 2013 before appearing in back-to-back grand finals with Goulburn.
Matt Smith: A Wynnum-Manly junior who is back at his old club in the Brisbane Rugby League.
Andrew Edwards: Was sent to Canberra's feeder club Souths Logan in 2009 and became a mainstay of the QLD Cup club over the next eight seasons, retiring from footy in 2017.
Travis Waddell: Went on to play first grade at Canberra and also had stints at Newcastle and Brisbane. Playing for Wellington in Group 11 in 2019.
Nick Skinner: Played six NRL games for Manly in in 2012 and 2013 before signing with South City Bulls in his hometown of Wagga where he's still playing today.
Jarrad Kennedy: Amassed 49 NRL games for the Raiders before a switch to Manly. Is now the skipper of the Tuggeranong Bushrangers who lead the Canberra Raiders Cup.
Zach Merritt: Has earned a reputation as one of the best bush footy players going around. Helped his junior club, Forbes, to their first title in 30 years in 2016 and is currently starring for Bathurst St Pat's in Group 10.
Shaun Fensom (c): Became a cult hero at the Raiders before moving on and appearing in the 2017 NRL grand final for North Queensland where he infamously broke his leg in the opening minutes. Part of the Broncos 2019 squad.
Brock Dunn: A Dubbo junior now playing for the Gundagai Tigers.
Justin Carney: Has had most of his success in the English Super League as a bustling winger. Is also playing in the Group 11 competition this year at Nyngan.
Todd Rheinberger: A talented cricketer picked up by the Raiders in 2007 after being offered a trial. Also played for Queanbeyan Tigers AFL side since leaving the green machine.
Levi Freeman: Quit the game in 2017 after being de-registered by the Country Rugby League following a conviction for assault in 2013.
Coach Andrew McFadden: Back at the Raiders as an assistant coach in 2019.
BRISBANE BRONCOS
Josh Hoffman: Squeezed out of the Broncos in 2014 after appearing in 109 games, linking with the Gold Coast Titans. Is currently playing in Sydney at the Eels.
Mitch Rivett: Made his NRL debut at Brisbane in 2010 but would play just one more first grade game.
Will Tupou: Switched to the Cowboys and made his NRL debut in 2010. Has spent the last three years with the Sunwolves rugby union outfit and is a Japanese International.
Brendon Gibb: Three games for the Broncos in 2012. Plays for Souths Logan in Brisbane.
Jharal Yow Yeh: Was one of the premier wingers in the world when a sickening injury ended his NRL career in a match against South Sydney in Perth.
Jared Kahu: Signed by the Cowboys for the 2009 season but never returned to Australia after heading home to Wellington for Christmas.
Ben Hunt: Has gone on to represent Australia and Queensland. Left Brisbane for St George Illawarra in 2018.
Josh McGuire: Now one of Queensland's premier forwards but has since left the Broncos for North Queensland.
Andrew McCullough: Actually made his NRL debut for Brisbane during the 2008 season. Has been in the first grade squad ever since, amassing over 250 games and counting.
Mitchell Dodds: Played an impressive 76 games as a young prop between 2010 and 2015 at Red Hill. Left for Warrington in England but broke his leg early and returned to Australia in 2017.
Matt Handcock: Will be competing at the Reebok CrossFit Games in the United States next month.
Troyden Watene: Queensland Cup's top points scorer in 2010. An electrician by trade.
Alex Glenn (c): A veteran and cornerstone of the current Broncos NRL squad.
Michael Spence: Ditched footy to become a bikie. Has spent time behind bars.
Dunamis Lui: Has played for several NRL clubs but currently making a name for himself at the Raiders under Ricky Stuart.
Guy Ford: Returned to Capella and became a professional bull rider.
Tom Butterfield: A Kumuls International, Butterfield was a mainstay with the Easts Tigers in Brisbane for many years. Now plays for Wests Brisbane Panthers in the local A-Grade competition.
Coach Anthony Griffin: Came through to coach the Broncos NRL side. Was most recently at the Panthers.
@woodward_curtis