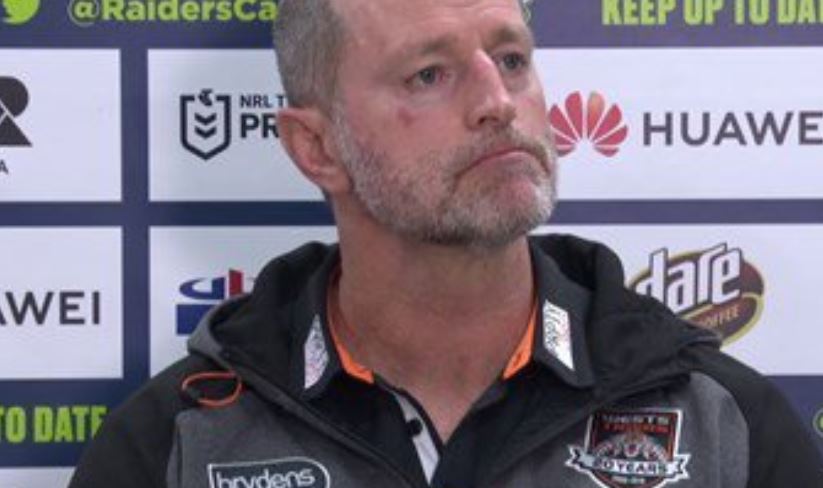 Don't blame Madge: Wests Tigers fans have been spun around so many times they couldn't remember what a healthy team looks like
July 20, 2019
BY CURTIS WOODWARD
@woodward_curtis
South Sydney coach Michael Maguire took his seat high above ANZ Stadium on the 5th of October, 2014 and knew there was history to be made. The Rabbitohs hadn't been to a grand final since 1971. After 80 minutes of footy, Maguire was a premiership-winning coach.
Glory, glory.
The pride of the league had won 20 titles but it had been a long time between drinks.
We know what happened.
Sam Burgess. Cheekbone. Greg Inglis. Tears of joy.
Make that 21.
This was Maguire's team for as long he wanted it.
A master leader to match Wayne Bennett and Craig Bellamy.
Within three years of handing long-suffering Rabbitohs fans their first title in more than four decades, Maguire was gone.
Good clubs act.
It's harsh and ruthless but that's the business.
Okay, Wests Tigers, what's your story?
In 2005, Tim Sheens' unlikely gang of bright-eyed rugby league hippies, that played the game with true attacking fearlessness, won the premiership. It shocked everyone. Still shocks some.
It's the best and worst thing to ever happen to the club.
The win filled lonely hearts.
It also gave false hope.
From that incredible night in '05, Wests Tigers finished 11th, 9th, 10th and placed 9th in 2009.
Sheens remained and good on him. It's not his fault. He's not going to sack himself. Wests Tigers made back-to-back finals after that in 2010 and 2011. But that was it. The last of the great Wests Tigers teams.
Not long after the grand final, premiership-winning captain/halfback Scott Prince left the club to join Gold Coast Titans.
For all the players Wests Tigers brought in over the years, they continued to bleed their best talent.
Anthony Laffranchi, Prince, Gareth Ellis and Brett Hodgson left before their time, Aaron Woods, James Tedesco, Marika Koroibete, Josh Addo-Carr, Nathan Brown, Martin Taupau, Ben Te'o, Andrew Fifita, Mitch Moses and Blake Austin. Club greats Bryce Gibbs and Chris Heighington went elsewhere to finish their careers.
The club squeezed out Benji Marshall and Robbie Farah too.
Then they wanted them back, denied it to the media, said yes, said no.
Where's the club today?
It may as well be round 1, 2006 again.
The club is stuck in their own quicksand.
Fans are angry. Or, if they're not, they're confused.
They want their team to be a premiership force. Others couldn't blame veterans Marshall and Farah if they tried. Some are going to bed at night believing they will see Wests Tigers playing Finals footy with Marshall at 6 and Farah at 9.
Oh no… maybe… win the premiership?
This isn't Maguire's squad.
Ivan Cleary, anyone?
You can't blame the supporters.
The team is okay. How great is it being competitive against the best teams? It only gets you so far. Nobody remembers if you battle and lose. Results matter.
That has been forgotten by some.
Expectations are so low now that Wests Tigers fans believe it's okay to be 9th or 10th. It's okay to have 23 different home grounds and it's okay to…just… be okay.
It's fine that the team's best options in 2019 are Marshall and Farah. Even better, some want them to play on into 2020.
This is how far the club has come.
Round 1, 2006.
What do Wests Tigers stand for, anymore?
And how can their fans get behind it?
In recent weeks, Wests Tigers have come close to beating premiership forces Canberra and the Roosters. That's exactly where those matches were meant to finish. Good show but see ya, champ. Enjoy your Mad Monday.
"…If we're going to change the club and the playing group, we need to harden up as a group. We let in some really soft tries tonight," Wests Tigers coach Maguire said after the 20-12 loss to Canberra at GIO Stadium.
"I don't normally talk about the team externally but I'm really annoyed and disappointed by where we are at this present moment.
"We should have been in a way better position in the game but we have moments where we lapse and that comes back to the characters that we have in the team at the moment. We need to work hard to make sure we change it."
Read between the lines there.
Last weekend's loss to Parramatta at home (LOL) was another example.
The Eels have a far better roster and were playing at Bankwest Stadium.
It doesn't matter how many times Wests Tigers say it's 'their jungle', Parramatta Stadium in black, white and orange is still Parramatta Stadium. The ground was packed with Eels fans. Benji, in his 300th game, got booed out onto the field by thousands of Parramatta supporters.
If the club doesn't know who they are – how would the fans know who they are?
Catch The81stMinute Call Team tomorrow for Western Suburbs and St George Illawarra on steelesports.com.au
@woodward_curtis