It isn't 1980 or Lidcombe Oval but the Magpies and Dragons clash again this weekend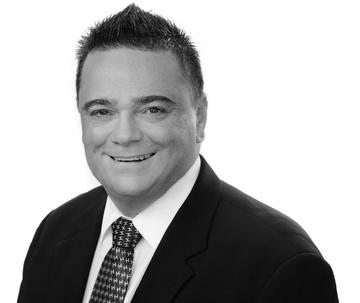 BY ALBY TALARICO
It was the Grand Final that almost was. The year was 1980 and it was a scintillating clash between the St George Dragons, premiers in 1977 and 1979, and 1978 minor premiers Western Suburbs.
Old foes.
The Red V.
Black and white dynamite.
It was a Traditional Sydney Saturday Match of the Day and all roads led to Lidcombe Oval. A 3pm start – does it get any better?
But first some history.

The Dragons and Magpies faced off in grand finals in 1961 and 1962 and, of course, the mud bath of 1963. Whilst the scoreboard will tell us Dragons won 8-3, it will also be remembered for a number of other events.
'Sheens as head coach, Walker boys run the attack': Could the Titans make it work?
Jack Gibson coming in to the dressing room telling the boys the fix was in by Referee Darcy Lawler… please… don't mention it to Noel Kelly!
There was Johnny King's "try", plus that fantastic photo by John O'Grady of Norm Provan & Arthur Summons. The Gladiators. Simply the best!
Saints had won in '77 & then again in '79. Western Suburbs were morals in '78 but somehow ended up missing out on the big one after being denied in the final when a certain try was scored by Graeme O'Grady. Another controversial referee Greg Hartley, who had somehow managed to stay in the top grade despite several seven tackle controversies.
Post '78, the Maggies we're ripped apart after losing the 'Manly 3'. Joe Cool, Les Boyd & Ray Brown to the Peninsula and Tommy & Snake to the Newtown Jets courtesy of John Singleton.
Yet somehow, 'The Professor' Roy Masters was able to regroup & motivate his team of battlers.
But back to 1980.
Saints were travelling well. The Mothers Day clash was a Red & White-wash with Saints winning 22-3. Craig Young & Dallas giving flowers pre-match to their mum's added to Rex Mossops Sevens Big League coverage.

However this match was a mini Grand Final and over 17,000 came through the gates. Kids were allowed on the bike track.
ABC TV was there with Reg Gasnier.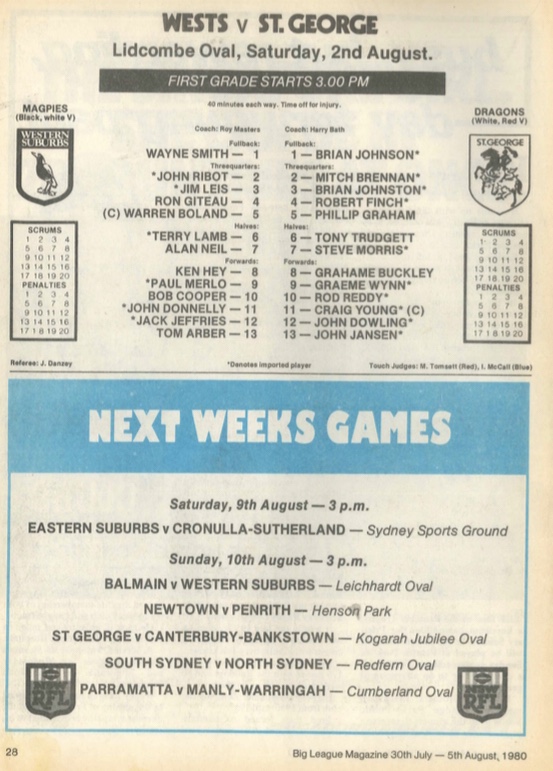 To add to the drama, a massive storm came through with 10 minutes to kick off and thousands headed for the exit.
Jack Danzey was the referee.
Roy said he was the most honourable referee he's ever dealt with.
Both forward packs were ready to go. Saints led by Young & 'Rocket' Reddy. Wests had Dallas,Tom Arber , Paul Merlo and Bob Cooper frothing at the mouth.
The backlines had plenty of speed. Brian Johnson up against Joel Caine's father-in-law Wayne Smith.
Mitch Mickey Lane Brennan on one wing and Brett's dad Robert playing in the centres.
Wests had Terry Lamb. Proving to be an outstanding pick up up against Tony Trudgett & Brett & Josh Morris' old man Steve who ironically won the Dally M in 1979 & winger of the year awards in '86 & '87.
Saints started well but Ron Giteau was on song with his around-the-corner kicking.
Western Suburbs prevailed with two tries to Jim Leis & 'Ginger Meggs' Alan Neil and a lone field goal to Lamb
Saints tries were scored by current CEO Brian Johnston and the late Graham Buckley with the extras being kicked by Graeme Wynn who would end up playing for Western Suburbs under Warren Ryan a few years later.
As a post-script, both sides faced off in the minor semi-final with Masters' Magpies prevailing 13-7. Ironically, Canterbury defeated Easts 13-7 the day before.
The following year Harry Bath & John Fleming were drinking at The Taj Mahal, AKA Saints Leagues after the Dragons defeated Wests at Kogarah.
They approached Roy and advised him that Harry was retiring and they wanted him as coach in '82.
They said they'd speak at the end of the season and there would be no further discussions and that's how it went.
Roy became Saints coach in '82 and stayed until '87.
Catch Curtis Woodward and The81stMinute Call Team this Sunday from midday on steelesports.com.au