Why Melbourne Storm boss Craig Bellamy is the greatest coach in Australian sport's history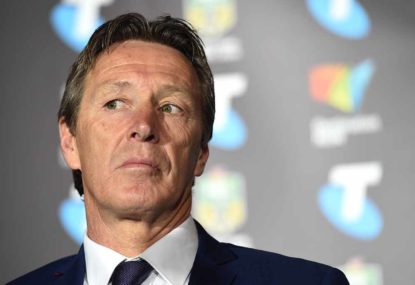 BY CURTIS WOODWARD
@woodward_curtis
Like sands through the hourglass, so is Craig Bellamy. What an incredible leader. A mighty coach who continues to chip into rugby league's history.
Bellamy has always been seeded in the upper echelon of Australia's best coaches. For a while though, the story was about the Melbourne Storm's 'Big Four'.
Anyone could coach Smith, Slater, Cronk and Inglis.
Right?
Bellamy was happy to hang in the shadows.
Then Inglis left.
'The Big Three' dominated anyway.
Most of the accolades went to them. Good coach but how many future Immortals do you want?
Then Bellamy lost Cronk after another premiership in 2017.
Made another grand final in 2018 and then he lost Slater.
Now it's just Smith.
Yet here we are in 2019 and the Storm are six points clear on the premiership table after a narrow win over the Sydney Roosters in Adelaide.
Despite losing superstar after superstar over the years, Bellamy's Storm are still the NRL benchmark.
After Smith goes, Melbourne will still be there. Challenging, fighting, scratching and that's Craig Bellamy.
Bellamy is in rare air.
Jack Gibson's air.
Italian drug boss Dominic Cattano in American Gangster says, "Success. It's got enemies. You can be successful and have enemies or you can be unsuccessful and have friends."
Outside of Victoria, how many friends do the Storm have?
Forget Slater, Cronk or Inglis – Bellamy and Smith are charging toward another premiership. And they couldn't give a shit who likes them, loves them or hates them.
Sometimes (always) us up in Sydney get carried away with news cycles, rumours and scandal. Bellamy doesn't like Sydney and why would he? He must laugh at some of the stuff we come up with. All the while, he plots.
The line goes that players become supreme warriors under Bellamy. When they leave, they wilt. Cronk and Inglis are exceptions for obvious reasons. Cronk has 'Bellamized' the Roosters. Inglis was just a freak.
All we hear in Sydney is Wayne Bennett versus Anthony Seibold, the next outrage, whispers (mostly bullshit) of player transfer. Melbourne seems so far away and that's the way Bellamy likes it.
On Friday night in Adelaide, the competition's two premier teams faced off.
It was intense but Melbourne came out on top.
With a few minutes to play and the Storm ahead, live-wire replacement fullback Ryan Papenhuyzen took a kick from his own in-goal and exploded up-field. Instead of going to ground he offloaded and then another pass. If it came off, Storm sprint off and clinch the game. Bellamy was furious.
So when do we start talking about Bellamy as the greatest coach in rugby league history?
King of the Jerseys Round 2 voting is now open!
He has had premierships ripped away and still dragged the organisation back from the abyss.
Imagine if the Storm never got Bellamy?
Let's pretend for a second he took that Wests Tigers job way back when.
The Storm would be nothing.
He deserves a statue outside AAMI Park before Smith, Slater or Cronk.
Someone on Twitter said about Bellamy: "He could grab a dozen blokes from club rugby and have them playing finals in the NRL 2 years later."
Bloody oath.
No coach in Australian history, from any sport, has been able to improve so many.
Anyone arguing Bellamy isn't the greatest ever is kidding themselves.
Funnily, ever since he came along, every other club in the land has tried to mirror Bellamy's blueprint but nobody can quite grasp it.
Yeah you can copy their attacking plays, their wrestle or defensive patterns but you're not Craig Bellamy.
And that is and always will be the difference.
@woodward_curtis
Catch The81stMinute Call Team this Sunday from noon for the Canterbury Cup clash between Western Suburbs and South Sydney