'Frustrating night of footy': Pitch invader and MCK17 show everybody else how to play rugby league under greasy footing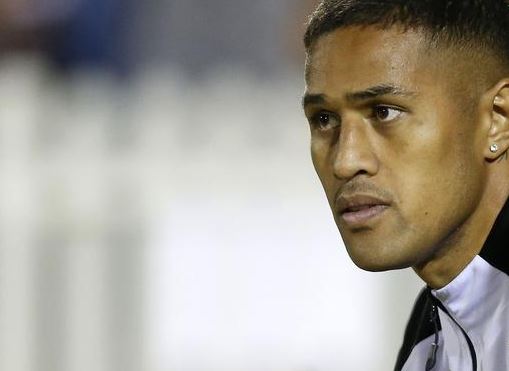 BY CURTIS WOODWARD
@woodward_curtis
It came late in the contest. With Wests Tigers and South Sydney slugging it out in an ugly game of rugby league on a Thursday night in Parramatta in front of 9000 people.
Bankwest Stadium is a glorious, legitimate rugby league venue but is anyone talking about the slippery surface?
No rain. A clear, crisp night.
But it still looked like we were playing in torrential rain.
Funnily enough, ground officials bragged about the amazing technology underneath the venue. Stuff like 'reverse-cycle air conditioners'.
"It gives us the ability to control the moisture level in the profile through a heavy deluge, but it also gives us the ability to push air through the profile as well," the curator said at the start of the year.
Hmm.
What about… just… night time?
Channel Nine's Andrew Johns interviewed Wests Tigers legend Benji Marshall as he walked off from warm up. Johns pressed Marshall on the greasy field. Marshall acknowledged that his team would play direct and challenge the Rabbitohs engine room through the middle.
Both teams forgot everything as the game commenced.
What we got was a frustrating night of footy.
Playmakers, young and old watching at home, would have been pulling their hair out.
Wests and Souths refused to play the conditions.

It was side-to-side and hard to watch.
Five up the guts for a bomb.
What's wrong with a couple for a kick into the corner?
Then, it happened.
Not Michael Chee-Kam.
It took a lunatic, field invader to show these professional rugby league players how to play the game. Deep in the second half, some wood duck hit the field but it was his mate who streaked down over halfway, split four security guards that showed the way. Forget the fine or long-term ban old mate is facing. He went through the hapless men in lime green.
MCK17 peered up and had flashes of what he did in Brisbane when he sunk the Broncos.
"Oh yeah," Chee-Kam's eyes turned into beach balls.
"What about if went through them?"
Bloody genius!
Luke Brooks was the best of the four halves.
But even then he made some dud calls and failed to ram home the objective.
How many times did we see either set of halves find the grass with their kicks or even, boot the ball over the sideline?
Benji himself told Joey in pre-game it was all about finding terra firma.
Souths pivot Adam Reynolds found the line in the 72nd minute.
Maybe a bit late?
Wests Tigers looked shot when Reynolds sunk the field goal to give the Rabbitohs a 9-8 lead.
Then the mighty MCK17 stood from the ashes of a crap game of rugby league and said 'follow me'.
Nobody thought the big fella had it in him once when he shocked the world at Suncorp a few months back.
But he's now done it again.
Spend any amount of time on social media and you'll see Wests Tigers fans biting their nails about their current roster and what happens next.
He's now won them four premiership points this season on his own.
However the game could have gone several different ways.
We always talk about the bounce of the footy but it's gone too far the wrong way.
The seven tackle set was brought in because teams were kicking dead from long-range to nullify the brilliance of Billy Slater on kick returns.
Slater is now retired.
Rugby league has become the most exciting ball sport to watch because it evolved and continued to do so.
Yet right now, we are only hurting attacking play.
Why a side pressing a defensive, retreating line should be penalised is just wrong.
Apparently it's still okay for teams defending their own line to give away penalties in the hope the other mob will kick for goal?
Tonight we also saw Wests Tigers penalised under their posts for taking too long to take a goal-line drop out. Despite the fact they were under pressure, it's okay to just give the attacking team a penalty goal right in front of the sticks?
You watch coaches take advantage of that.
Let's make the defending team really sweat.
Especially in horrendous games like tonight.
@woodward_curtis
Catch The81stMinute Call Team this Sunday from noon for the Canterbury Cup clash between Western Suburbs and South Sydney