Storm has found their new Billy Slater: Cameron Smith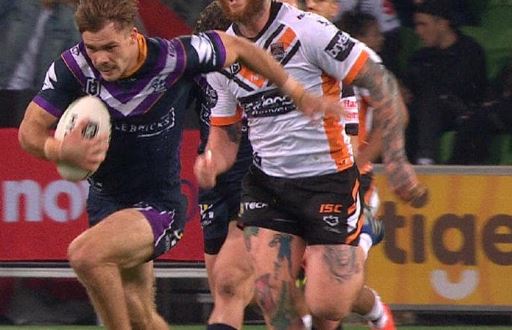 BY SCOTT DILLON
"He reminds me of a young Billy Slater to be honest."
Not a bad compliment from the one and only Cameron Smith.
That was Smith's take on Channel Nine after Melbourne's miracle win against Wests Tigers at AAMI Park and another jaw-dropping performance from rookie Storm custodian Ryan Papenhuyzen.
"He is about 80kg wringing wet but all he needs is a sniff of space and he is away," Smith continued.
"We saw it last week and we saw it tonight.
"He beat a two-man tackle and ran almost the length.
"His positioning was outstanding and his talk at the back was really good directing our defence.
"But the one thing I love about Paps is that he has been very patient this year. He has been 18th man early on. He has had a couple of starts off the bench. But he has just plugged away."
Papenhuyzen sparked the Storm in the 27th minute to break Wests Tigers and run the length of the field to score his third try in three weeks.
2005 or 2019? How scary for Wests Tigers that they're still dependent on Farah and Marshall
It was a night Wests Tigers would rather forget after again losing a game they should have won.
A 78th minute Will Chambers try saw Melbourne steal the two competition points after Wests Tigers dominated for the majority of the night.
Melbourne were up against it all night, giving up 10 penalties and losing prop Cameron Welch to a season-ending ACL injury.