COMMENT: If you attend one Thursday night footy game this year… this is the one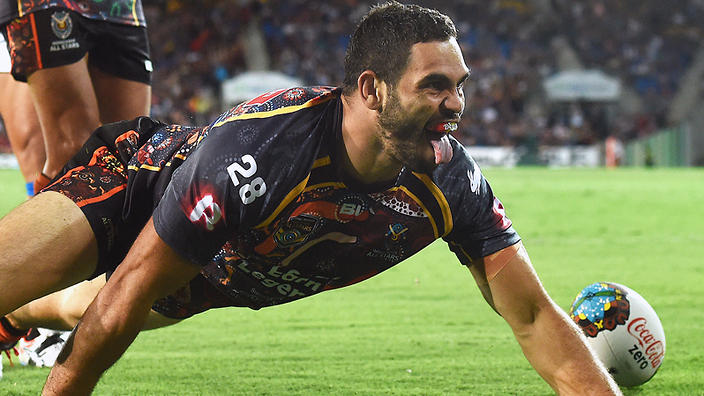 BY CURTIS WOODWARD
@woodward_curtis
COMMENT
Everybody agrees Thursday night football is a pain in the arse for anybody considering, you know, actually going to watch the game live. You still have work the next day, the game finishes at 3am, it's hell getting out of ANZ Stadium.
It's much easier getting home from work, flicking your shoes down the hallway, pouring a scotch and reclining on the couch.
Channel Nine, Fox Sports, 2GB, ABC or NRL Nation – there's plenty to pick from.
Watch, listen, drink. All from the comforts of your own home.
Why would you ever want to go watch Thursday night footy live?
On any other Thursday, this would all be true.
But tonight, the South Sydney Rabbitohs pay tribute to the recently retired Greg Inglis.
A mighty player who decimated defensive lines with his size, speed and power. Inglis made a mockery of some of the game's best modern day defensive players. He won games single-handedly and inspired a generation to run and palm and play like 'G.I'.
If you're a Rabbitohs supporter and can make it – you should be there.
You can get a photo taken with the Greg Inglis wax figure from Madame Tussauds in Aisle 127, grab a G.I face mask, there's a "Goanna Race" (whatever that means) and hang around post-match for a special presentation with the man himself. Melbourne Storm members in Sydney can also go to the game free of charge.
Let's not forget how much of a grudge match this actually is, either.
Wayne Bennett against Anthony Seibold.
The master coach against a new foe, a new challenger.
And while they won't be on the field themselves, the tactics they implement could decide the fate of the match.
The kid from President's Cup that would oust Wayne Bennett from the throne as emperor of the Broncos
It's also Brisbane captain Darius Boyd's 300th NRL game and while most fans south of the border couldn't give a rats, it should mean a few more from the #BronxNation's Sydney contingent rolling up.
Oh and Souths are flying with a 6-1 record.
WATCH: Remember THAT Darius Boyd interview?
Why wouldn't you be at ANZ Stadium tonight?
If you're going to go to one Thursday night footy match this year – make it this one.
This fixture deserves 25,000 plus.
@woodward_curtis