2005 or 2019? How scary for Wests Tigers that they're still dependent on Farah and Marshall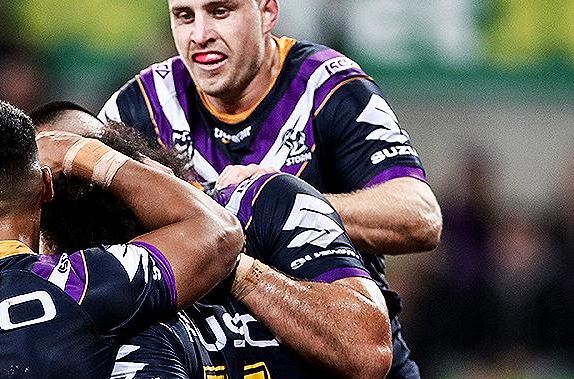 BY CURTIS WOODWARD
@woodward_curtis
Congratulations long suffering North Sydney Bears fans, one of the oldest lines in rugby league is no longer yours. For tonight, Wests Tigers stole defeat from the jaws of victory enough times to truly make it theirs.
How the hell did Wests Tigers lose this?
Recent form said this would be a classic – it was. Last week's performances set us up for a blockbuster and it was a cracking game of rugby league.
Some will argue Melbourne were off their game but it wasn't like it was a few weeks ago against in Cronulla. The Storm were terrible against the Sharks. They then went up to Magic Round and destroyed a horrendous Parramatta outfit. On that night, Melbourne ripped the Eels to shreds. It was like watching a lopsided Under 8's match.
Most thought Melbourne would roll passed Wests Tigers.
Bye, bye.
It's easy to make that assumption.
Easier still to forget what Wests Tigers did to the Penrith Panthers up in Brisbane. Last Friday, the clinical Wests Tigers embarrassed the Panthers in a first-half blitzkrieg. That's the team Michael Maguire wants to coach.
Wests Tigers, again, looked like a top eight side.
So where did Wests Tigers lose this game in Melbourne?
The 78th Minute when Storm centre Will Chambers crashed over?
Come on – that's lazy.
You know where Wests Tigers lost it?
Wests Tigers lost the game in the 7th, 18th and 25th minutes.
The same team that went mad in the first twenty minutes of their game last week against the Panthers with trick shots and long-range tries decided this week they were going to beat Cameron Smith, Cameron Munster, Suli Vunivalu, Josh Addo-Carr, Will Chambers, Ryan Papenhuyzen, Brodie Croft and Nelson Asofa-Solomona with… penalty goals?
Wests Tigers bitched out a bumbling team last week.
Tonight they bitched themselves out.
How many chances do you need to beat the Storm in Melbourne?
The commentators in the Channel Nine box, looking at you Andrew Johns and Johnathan Thurston, called Melbourne's win ten minutes from full-time despite being behind. Why wouldn't you? What have Wests Tigers done to prove they were going to defend their lead?
Robbie Farah and Benji Marshall are legitimate legends of the modern game. Keep that in mind. Words like 'legend' and 'great' are thrown around all the time but these guys really are.
But they just aren't who they were.
Wests Tigers don't have the squad they used to have to surround them either.
Anybody that thought Wests Tigers were going to make the finals this year are still rubbing the pixy dust out of their 2005 eyes.
Who didn't know the Storm were going to fire back?
The awfully scary part for Wests Tigers is that most of their fans want Farah (35) and Marshall (34) to play on next year. They actually think that's the club's best option and worse still, it is.
Even when both were gone before they made their triumphant returns, there were no kids coming through to steal their spots. Isn't it strange that the club hasn't produced anyone, anything, to make us believe that Farah and Marshall weren't the best options when they came back?
There's nobody knocking on the door.
No gun rising through the ranks to topple them.
It was Benji and Robbie for years. The club was crap without them. Now they're back and it's Benji and Robbie again. That's 17 years. It's still Benji and Robbie.
That's not a knock on them.
You can't blame those guys.
But answer this… how far has the club come?
In 2019, Wests Tigers are still relying on Marshall and Farah.
@woodward_curtis