Phil Gould has made the Penrith Panthers a juggernaut but he's also their biggest threat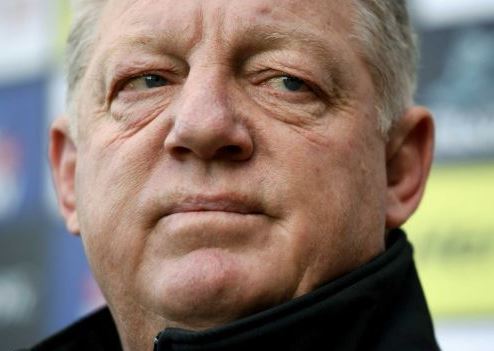 BY CURTIS WOODWARD
@woodward_curtis
In the mid 1990's, Sydney City supremo Nick Politis talked Phil Gould into coming over from the Penrith Panthers. It made sense. Gould was, and still is, a rugby league genius.
He needed to freshen up.
The Roosters were bums – no respect.
With Gould, came superstar Brad Fittler.
Gold.
But before that…
A baby-faced Gould led the Canterbury Bulldogs to premiership glory in 1988 as a 30-year-old coach. He went to Penrith and they immediately became a contender. The Panthers won it, under Gould, in 1991 after falling just short the season before.
Sometimes in rugby league, shit happens.

Instead of a rugby league dynasty at the foot of the mountains, the grim reality – of mortality – struck the club. One of their most beloved, Ben Alexander passed away.
Every man, present or future was important. For a function or at bonding sessions in Batemans Bay or Ballina. Internationals, State of Origin stars, reserve grade players. Everyone trained together. Everyone drank together. A club then, funnily enough, was a club.
So when Ben left us, it all came crashing down.
Gould's best players went off the rails. Greg and brother-in-law, Mark Geyer, escaped. Greg and Geyer didn't just leave Penrith. They ran as far away as they could to get away from the pain.
Greg joined Auckland, another country.
Geyer, fighting every demon in his head, finally found himself in Perth at the Western Reds.

Gould couldn't coach his way out of the darkness that came from Penrith's brightest day in September, '91.
Leave no doubt – Phil Gould knows more about rugby league than most of us combined.
He is on par with Jack Gibson, Ron Massey and Wayne Bennett.
If Gould was around in a hundred years, his head would be in the jar, like Richard Nixon's in the cartoon Futurama. He'd probably be the CEO of the WRL (World Rugby League) if Steve Mascord had his way.
But in 2019, Gould is in a paradox.
He knows he's the biggest brain at Penrith but he doesn't have the drive he did at Canterbury or when he was coach of the Panthers way back when.
Who wants that stress?
It was bad enough before social media and the internet.
There's no disputing what Gould has done for the Penrith region.
Crisis merchants will tell you the GWS AFL Giants, Glens, Gregs or whatever are taking over Western Sydney. The truth is, unfortunately for those that only read The Daily Telegraph, the Panthers have a record 9000 juniors players within their boundaries in 2019 with almost 60 female teams.
Aussie Rules isn't even a pimple on rugby league's arse.
The Panthers, under Gould, have also built a rugby league academy that would blow some of the lower English Premier League clubs away.
And while we're still batting for Gould, he's also reimagined the roster.
With all due respect to some of the players at the club when he walked in, they were simply not good enough to be playing NRL for a junior powerhouse that has promised so much. He also put the tough word on blokes like Luke Lewis and Michael Jennings. Yeah they've excelled elsewhere but they were deadwood at Penrith. They needed a change.
Look at the roster now.
Bravo, Phil Gould.
But he's also his club's worst enemy.
No coach will ever be good enough for the best coach he knows – himself.
Look at Ivan Cleary.
Gould sacked him and signed Anthony Griffin?
Why?
Because, apparently, Griffin impressed Gus in the corridors of Suncorp Stadium one night when Griffin was still coaching the Brisbane Broncos.
Ivan looked tired.
That decision comes down to Phil Gould.
Now Ivan is good enough to be coach of his club again.
Hi Nathan.
Rugby league is a blood sport – not just on the footy field – but in the boardrooms.
Phil Gould has done all he can for the Panthers.
He, as general manager, should be remembered fondly for what he has done for the club.
But he's also Penrith's biggest threat.
Nobody at the Panthers will ever be better than Gus.
@woodward_curtis
Craig Bellamy blasts 'condescending' Roosters and takes a shot at their fans