Whatever Paul McGregor is trying needs to stop now as Bennett smiles all the way to the bank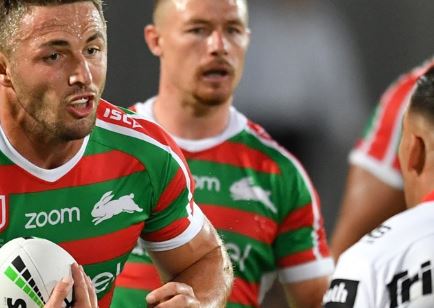 BY CURTIS WOODWARD
@woodward_curtis
BY CURTIS WOODWARD
@woodward_curtis
Red V we have a problem. Yeah, yeah, you've heard it all before but what happened on Thursday night? The St George Illawarra Dragons were golden at half-time.
Fans from Shellharbour to Carlton were doing backflips after forty minutes of footy against South Sydney. The Dragons were sharp, desperate and playing way faster than their South Sydney opponents.
Your writer himself commented on social media that the Rabbitohs may have been suffering from a heavy track at the Sydney Cricket Ground last weekend. While it rained constantly in Townsville on Saturday evening, the Dragons had it pretty easy against North Queensland on a perfectly produced pitch. An absolute carpet.
So the Dragons waltz into Kogarah.
At half-time, it looked like the Rabbitohs were going to get dusted by thirty.
All the arguments about where Gareth Widdop should play, Corey Norman, Matt Dufty, all that jazz, was forgotten.
The Dragons are a top eight team.
Might even be a top four side.
But what happened?
It's frightening how far they fell in the second stanza from the lofty heights they set themselves in the first half. They didn't show up and despite it being round two, you almost agreed with their fans if they started booing when they came from the field.
To put it simply, Paul McGregor has got his starting side wrong.
It may sound strange, but playing Gareth Widdop at fullback is a defensive move. He doesn't have the spark from the back field Matt Dufty or Corey Norman could contribute.
Widdop is also ten times the creator Norman is in the front line.
At one point late in the game with Hunt shoved into hooker, the Dragons went up field. Norman, almost waving the white flag, kicked the ball into a Rabbitoh's leg. End of set. Widdop would have put it into the in-goal.
It could be McGregor's paranoia about his long-term future that made him put Widdop at the back but it will be stubbornness that doesn't see a change for their round three clash against Brisbane at Suncorp Stadium.
That will be his eventual downfall.
Then there's the Rabbitohs.
Beating the defending premiers who were returning to Australia after a trip to Europe for a World Club Challenge trip, isn't an uncommon thing.
Experts that had the Rabbitohs making the top 8, moved them up a few notches. Those that them in the top four, winked and pencilled them in for October.
They were ordinary to start with against the Dragons on Thursday.
Perhaps some concrete in their boots.
Then Wayne Bennett got to them.
And then you ask, were they struggling in the first period against the Dragons or were they just doing enough like the best teams in the competition do?
After oranges and some magic dust, Souths came out for the second half and looked like a side that decided to flick it into fourth gear. The Dragons were left in their wake.
Apparently Sam Burgess was struggling with injury – wasn't taking his hit-ups. Where was that after half-time? The man ended up with two tries.
What a beast.
Better than Sattler, McCarthy and Coote.
Coach Bennett is a genius.
He was selling himself to Rabbitohs officials in 2018 when he knew the Broncos already had Anthony Seibold. This was months before it was made official by Brisbane administration.
The Rabbitohs are legit and Bennett is smiling all the way to the bank.
McGregor would be good enough to ask Uncle Wayne for a few tips.
@woodward_curtis
The81stMinute Call Team returns this Sunday for the Wests Magpies versus Warriors clash – live from 3.45pm (5.45pm NZ) on Steelesports.com.au