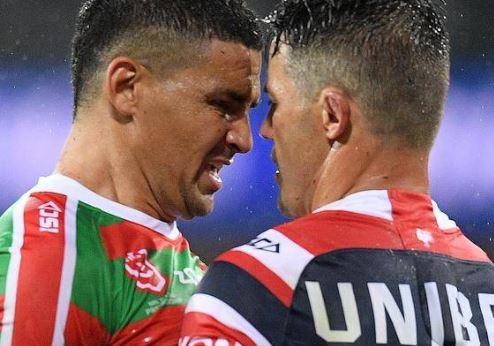 Wayne Bennett tells Roosters to grow up after crying foul of Cody Walker barbs
March 20, 2019
BY STAFF WRITERS
South Sydney Rabbitohs coach Wayne Bennett has taken a jab at rivals within the Sydney Roosters team after last Friday night's encounter at the Sydney Cricket Ground.
A sometimes spiteful affair saw the Rabbitohs beat the premiers but it was the constant niggling between the sides that had everyone talking post-match including a war of words between Cody Walker and Roosters halfback Cooper Cronk. Walker also reportedly called former Bunnie Angus Crichton a "traitor".
It led to Roosters star Luke Keary – an ex-Rabbitoh – calling Walker disrespectful.
But Bennett wanted players to leave their grievances on the field.
"It's the immaturity we have in the game today," Bennett told the media on Wednesday.
"The man psyche is, 'Get off the field, forget about it and move on with life.' Some of the boys just don't grow up early enough anymore."
Bennett said he wouldn't be speaking about it with Walker at training.
"Haven't said a word to him. I'm not going to waste my time talking about rubbish."
Bennett has some high profile support in the shape of Paul Gallen who told 100% Footy on Monday night that Keary shouldn't be telling anybody to respect another player from the opposition – especially post-match in the media.
The81stMinute Call Team returns this Sunday for the Wests Magpies versus Warriors clash – live from 3.45pm (5.45pm NZ) on Steelesports.com.au