Legendary Saints side, Ken Arthurson, Footy Show and SCG join the Hall of Fame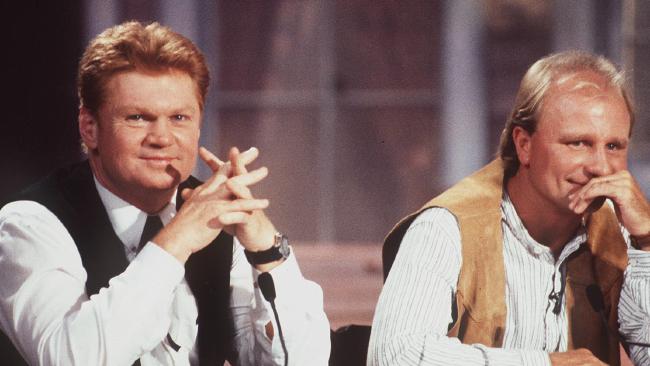 1956-1966 St George Dragons
It will never be repeated in rugby league.. From 1956 to 1966, the St George Dragons dominated the premiership winning an incredible eleven straight titles.
This Dragons team boasted some of the biggest names the game has ever produced including Immortals Reg Gasnier, Johnny Raper, Graeme Langlands and Norm Provan.
All, of course, are members of The81stMinute Hall of Fame, along with Ken Kearney and Billy Smith.
No team will ever replicate the dominance this mighty Saints machine had over professional rugby league.
Ken Arthurson
"The Godfather of Manly" – Ken Arthurson was front and centre of the Super League War as ARL Chairman.
One of Australian sport's greatest ever administrators, Arthurson oversaw the rise and dominance of the Sea Eagles club and new ventures for the ARL including the expansion of the competition to 20 teams in 1995.
A loyal servant to rugby league and his club, Arthurson deserves his place in our Hall of Fame.S
Sydney Cricket Ground
The home of rugby league up until 1988 when the neighbouring Sydney Football Stadium was built, the SCG has played host to over 1300 first grade and representative fixtures since 1911 including the grueling 1973 grand final between Cronulla and Manly, the famous 'Gladiators' embrace between Norm Provan and Arthur Summons, the eleven straight St George premierships and New South Wales' very first State of Origin series victory in 1985.
The Footy Show
For years, The Footy Show was the cornerstone of Channel Nine's Thursday night line-up and kicked off the rugby league round each and every week.
Beginning in 1995, the original panel boasted Paul 'Fatty' Vautin, Peter Sterling, Steve 'Blocker' Roach and Ray Hadley. Other regulars included Terry Hill, Mario Fenech and Mahatma Cote. Later, the show would star Matthew Johns and his characters Reg Reagan and Trent, Paul 'The Chief' Harragon and Beau Ryan.
Running for 25 seasons, The Footy Show will always be remembered for its not so politically correct take on the world and regular segments like Anti-Ads, Sixty Seconds with Sterlo, Crack-a-Fat, Their House with Ryan Girdler, National Naan News, That's Gold and Beau Knows.
On Sunday mornings, The Sunday Footy Show took a far more serious look at the game and was hosted for many years by Peter Sterling.