NRL Memes accused of stealing content, threats and stalking as Napa scandal escalates
BY CURTIS WOODWARD
@woodward_curtis
An all-out turf war has begun on social media with the administrator behind infamous Facebook page, NRL Memes, now in the firing line from a united rugby league community.
Representative prop Dyan Napa, who was at the Sydney Roosters at the time, has been at the centre of several lewd videos released by NRL Memes.
A video of what appears to be a young Napa surfaced on the NRL Memes page several days ago in a consensual sexual act with a young woman. A third person is recording on their phone from a distance.
The video has since been taken down.
Just a few days later, the page promised a second video if they reached a certain amount of likes.
They didn't reach their target at that stage.
The video went viral anyway but was not released on the NRL Memes page.
On Monday, NRL Memes doubled down, posting not one but two videos including a third video of Napa and a video from 2016 showing then Eels star Corey Norman offering another man a line of white substance which he snorts. The Norman video was public knowledge back then and Norman was accordingly fined by Parramatta.
Dean Messiter, who runs The NRL Roast, has revealed to the81stminute.com a history of NRL Memes "stealing content", stalking and posting misinformation.
"So I started the (NRL) Roast in February 2017," Messiter told us.
"Middle of that year, we post some videos we created. (NRL) Memes post it up with our watermark taken off, theirs added, and the caption "created by NRL Memes".
"I inbox saying 'what's up?' I get brushed. It keeps happening over and over. I contact again to discuss and nothing. So I send an intellectual copyright claim to Facebook. Too many (of them) and your page gets shut down. This gets his attention. He talks to me via a fake account. I know who he is from others and tell him I know who he is which he denies.
"He whinges saying I'm threatening his livelihood. I'm like, "mate I created them – you're stealing content". He threatens to ring my work and complain, goes on to stalk my Instagram and Facebook profiles and details information from them involving my wife and kids.
"All because I asked for him to post up an apology and give our page a plug."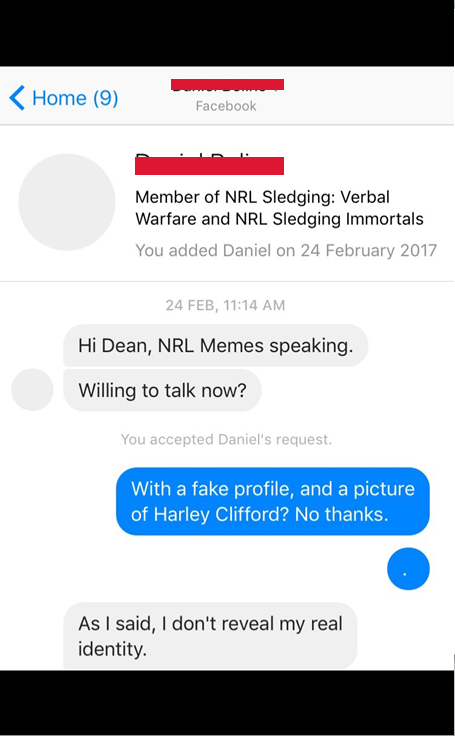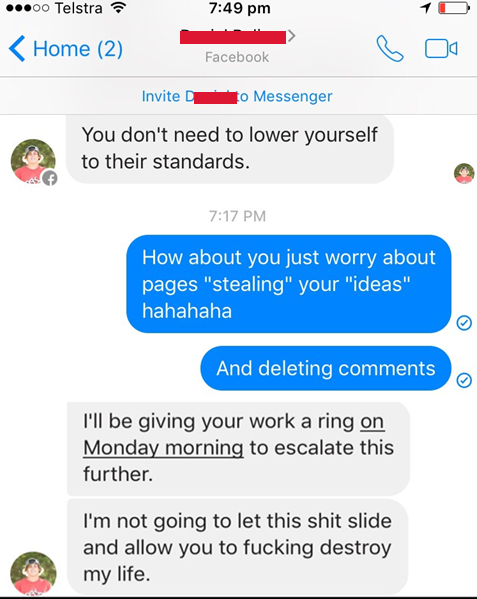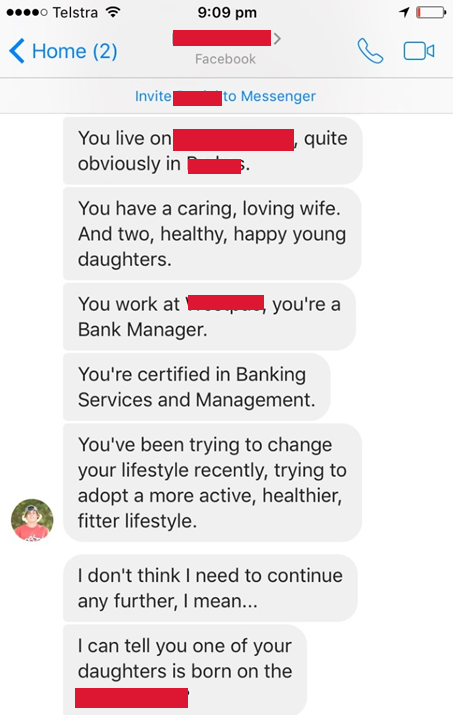 Messiter claims that after posting "old, embarrassing" photos of Fouad Ghosn – the man reportedly behind NRL Memes – as payback, he received a "few angry phone calls last night" and "a warning from someone that the old guy in the Norman video was well connected and that someone would be paying me a visit".
According to Messiter, NRL Memes also uploaded photos of him and claimed Messiter was the administrator of the page.
Messiter made it clear to the81stminute.com that it wasn't him who had revealed Ghosn's identity online saying, "Even his so-called mates have outed him."
The81stminute.com contacted NRL Memes for comment again on Tuesday after denying Ghosn had any involvement with their page on Monday.
In response to Messiter's claims of harassment, NRL Memes said they had done nothing wrong.
"I can't contact them from my page and I don't have a personal account."
NRL Memes then posted on Tuesday after reaching 300,000 likes.
"We simply just don't give a single f*** what anyone thinks and we will continue to produce and publish content that the fans want, and not what won't hurt the minorities feelings."
Messiter told the81stminute.com he would be contacting police in due course.
@woodward_curtis