"Not true or is unsubstantiated": NRL Memes facing defamation suit after Dylan Napa uploads
BY CURTIS WOODWARD
@woodward_curtis
The NRL Memes Facebook page could be faced with a defamation suit after releasing a screen shot of what could be a third explicit Dylan Napa video.
A video of what appears to be a young Napa surfaced on the NRL Memes page several days ago in a consensual sexual act with a young woman. A third person is recording on their phone from a distance.
The video has since been taken down from NRL Memes.
Just a few days later, the page promised a second video if they reached a certain amount of likes.
They didn't reach their target.
The video went viral anyway but was not released on the NRL Memes page.
It has been confirmed the Kangaroos and Maroons prop has sought out legal advice and contacted the NSW Police.
Despite not actually uploading another video, NRL Memes could find themselves in hot water if Napa begins defamation proceedings against them.
"Ladies and Gentlemen, there is Part Three… He's holding a KFC burger in his hand and asking her to call him big papi and big papa again," the page posted on Monday afternoon.
They then followed that up with a comment alongside a screen grab of Napa in a black jacket: "Part two was a prostate examination because part three is finger lickin' good!"
If NRL Memes were to upload the video, they could be charged with revenge porn. Even if they don't, they could still be in trouble.
According to gotocourt.com.au, "Generally speaking, defamation refers to something said or written by one person which negatively affects the reputation of another person, and that thing said or written is not true or is unsubstantiated."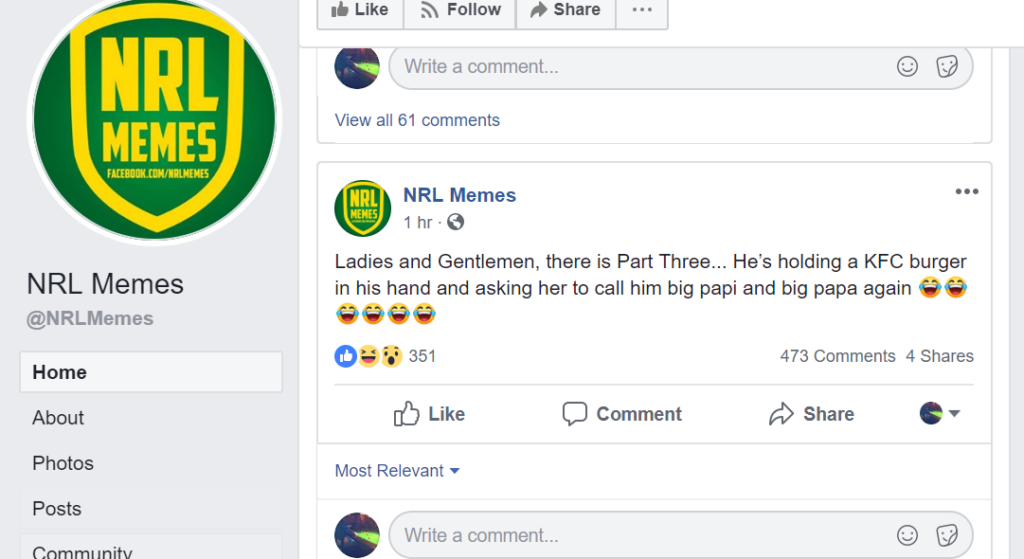 "For the claim to succeed, you will generally need to prove the following:
"The defendant has made a communication to other people – this could be online, in person, or through some other medium like art;
"The communication was related to you or identifies you – this test can be one of the hardest to satisfy, particularly in relation to communications like art which may be 'veiled criticism' or open to interpretation; and the communication was defamatory, in the sense that it either negatively affects your reputation, lowers your estimation in the eyes of other people, or might cause you to be avoided or shunned by other people."
NRL Memes is the same page that uploaded a racist image directed at retired Bronco Sam Thaiday back in 2016 after Harambe the gorilla died in an American zoo.
Administrators of the page had no comment when the81stminute.com reached out.
@woodward_curtis