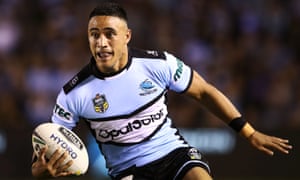 Sharks release Valentine Holmes to pursue career in the NFL
November 20, 2018
It is official – Valentine Holmes is headed to the United State to try his hand at the NFL with the Cronulla Sharks releasing him from the final year of his contract.
Holmes had previously expressed interest in testing his abilities in the rival sport.
The Sharks released a statement on Tuesday saying:
"Valentine Holmes has today requested an immediate release from his contract to pursue an NFL career.
This news brings great disappointment to the Cronulla Sharks who have worked hard to re-sign Holmes to a five-year extension, which would have made him the highest paid player in the Club's history.
While this is in no way the outcome the Club planned for, there was no option but to grant a release to Holmes.
Under the terms of the release, if Holmes is unsuccessful in the NFL and wants to return to the NRL in 2019, it will be with the Cronulla Sharks only. Valentine will not be eligible to play for any other NRL Club during 2019."