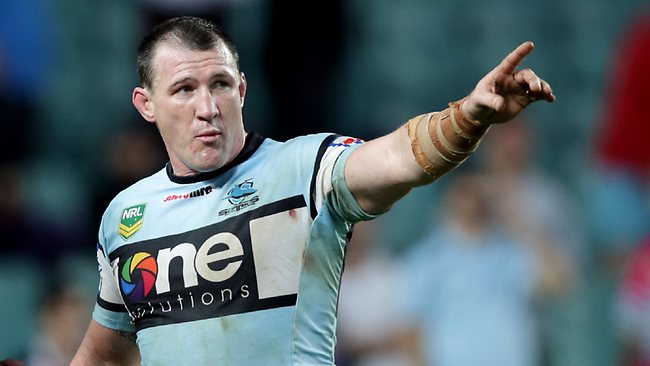 Dear Paul Gallen: Pull your bloody head in, loyalty is dead anyway!
November 21, 2018
COMMENT
BY CURTIS WOODWARD
@woodward_curtis
The Sharks boys down in the Shire are usually a pretty tight bunch so it takes a pretty dumb comment to get a clip over the head from a club legend.
Yet that's what happened after Paul Gallen's downright ordinary take on Valentine Holmes' decision to leave his rugby league career behind to pursue the NFL.
Gallen, Cronulla's captain, didn't miss in his assessment of Holmes.
"Its been a dream of his which is great, I push guys to pursue their dreams without a doubt," Gallen told Channel 9.
"But the fact is he had one year left on his contract and we don't get this far in the game or in any game without your teammates and Val's left us, he's walked out on us which I find disappointing."
Violins, please.
Cronulla legend Mat Rogers, who left the club to play for the Wallabies in a rugby World Cup final back in the day, had heard enough.
"For someone who goes and cops money for fighting while he's contracted, it's unbelievable that he'd come out and say something so stupid," Rogers told AAP.
"Oh mate, Gal, keep your mouth shut mate."
You were great on Survivor, by the way, Rat!
We digress.
Gallen didn't seem so furious when Jarryd Hayne broke his Parramatta contract when he left for San Francisco. He didn't seem to care when Ben Barba walked out on St. Helens to return to the NRL.
Maybe it has something to do with how late Holmes left his decision. The fact he had a year to run on his deal at Cronulla doesn't mean jack.
Gallen has publicly supported mates in the past who have put financial security ahead of their teammates.
"The NRL are always on about the integrity of the game, I don't see how this is good for the integrity of the game."

Paul Gallen has fired up over Val's NFL switch. 🔥 pic.twitter.com/wO5YyQhNcM

— NRL on Nine (@NRLonNine) November 20, 2018
A lot of people smashing Paul Gallen for his opinion on Val Holmes and players breaking contract. At a time when rugby league is overly sanitised, shouldn't we be encouraging players to be forthright and opinionated? Anyway, I don't necessarily agree with Gal, but good on him.

— Steve Zemek (@stevezemek) November 20, 2018
How many times have we heard the old: 'We're only in the game for a short amount time. We have to do right by our families.'
Now, because it suits, Holmes has let his mates down?
Holmes wants to challenge himself and see if he can make it in the NFL.
Good on him.
And the next time Gal wants to play the loyalty card, just remember, the Sharks won their maiden premiership in 2016 with a Bulldog at fullback, Rooster at five-eigth and a Bulldog/ Bronco/ Dragon/ Knight at hooker.
Perhaps Paul Gallen will be better off picking up his phone, opening up a text and sending a big 'Sorry xo' to his buddy, Val.
@woodward_curtis