Roosters versus Storm kind of sucked but it's not the end of the rugby league world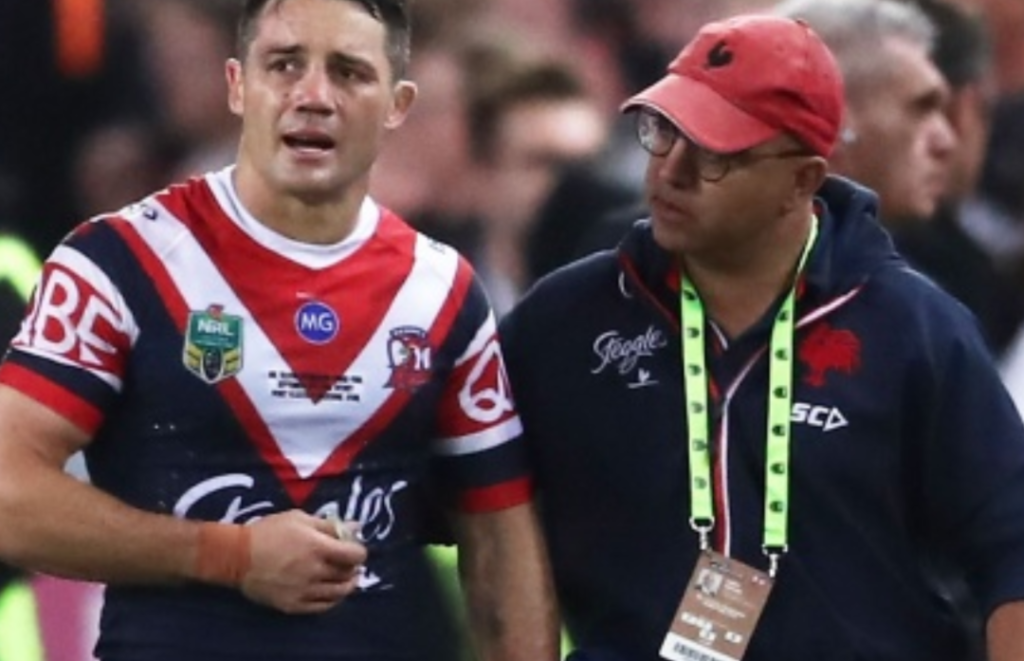 BY CURTIS WOODWARD
@woodward_curtis
The 2018 National Rugby League premiership came to a close last weekend with a whimper. The ground sold out, millions watched at home, Cooper Cronk played, as did Billy Slater. Confused? Dazed? You should be.
For all the season's highs, mildly entertaining scandals and breathtaking athleticism, Melbourne's Storm against Bondi's merry men of hired guns didn't really reach the heights we were expecting. The Glamour Club trounced its purple punching bag from the Victorian capital. It was over pretty quickly. The Storm never turned up.
If you ask the Roosters medical staff, they will tell you Cronk played without a shoulder, legs or hands, had temporary blindness and Dennis Hopper had strapped a bomb to his chest and if his team didn't score over 20 he would blow the whole thing to smithereens. What a champ.
The problem is, Melbourne against the Roosters needed to be epic – maybe into extra-time. It needed us to be emotionally invested in the result and to make us forget we were watching who we were because with all due respect to the grand final team's fans, it was pretty hard for all of us to fire up and get stuck in.
Sorry Melbourne, sorry Easts. It just wasn't for us. No hard feelings.
The 2018 grand final was like watching Freddy versus Jason or Clubber Lang versus Ivan Drago.
Who are we meant to cheer for?
Super villain against super villain just doesn't work.
"Everyone at this football club sacrificed something for me to be here."

Classy response from Cooper Cronk.#NRLGF pic.twitter.com/q45CsIAiNI

— Wide World of Sports (@wwos) September 30, 2018
There is, as always, a silver lining. Something that will forever hold true: rugby league goes on.
Last weekend in Broome, a footy side travelled 13 hours by bus to play in a Nines tournament in the Northern Territory. They didn't win but they still had to drive back. So they did. A 26-hour round trip on grand final weekend to play in their own competition. Rugby league goes on.
Indigenous players from right across New South Wales converged on Dubbo for the Koori Knockout too. Retiring referee Matt Cecchin helped out. He should have been in charge of the NRL decider but instead of kicking stones and throwing his whistle out the window, he jumped in the car and headed up the Great Western Highway.
16,000 kilometres away, underdogs London just defeated the Wolfpack in Toronto to gain promotion back into the Super League.
It was meant to be Toronto.
Everything had been set up perfectly for rugby league's shiny new toy.
Instead, it was London, who proudly boast Aussie toilers Steele Retchless and Peter Gill in their Hall of Fame, that came away with a gutsy, gritty, downright fantastic 4-2 win. Rugby league goes on.
SCENES 😱😱😱

What a superb performance from @LondonBroncosRL! They're back in the big time 👏 pic.twitter.com/CqUcMPQVPk

— Betfred Super League (@SuperLeague) October 7, 2018
Back in Sydney, nations like Japan and Hungary and Hong Kong and Turkey are battling it out to be crowned the Emerging Nations World Champions. France just hammered Serbia in Belgrade, Spain outlasted Russia in Valencia, Australia and New Zealand this weekend, as is the Super League Grand Final at Old Trafford, Kangaroos against the Tongans next weekend.
Rugby league goes on.
And thank heavens it does.
Perhaps we've been spoilt for choice in recent seasons: South Sydney's glory and Sam Burgess' broken face, Johnathan Thurston's field goal, Cronulla putting the porch light out, North Queensland's epic run into the grand final last season.
The Roosters were bound to meet the Storm at some point, right?
Okay, we've tried it, it tastes weird, have it back.
But the best part is, rugby league goes on.
Nobody knows what the future holds and that is the very essence of rugby league.
And so it goes…
@woodward_curtis