Furious Wests Tigers players leak departing Cleary text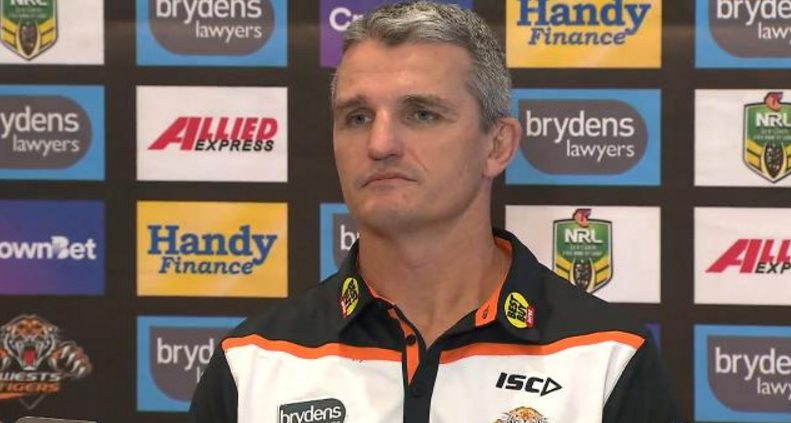 BY CURTIS WOODWARD
@woodward_curtis
Wests Tigers have released coach Ivan Cleary from his contract confirming one of the NRL's worst kept secrets.
Cleary has returned to the Penrith Panthers.
The club has since announced premiership-winner and current Kiwi coach Michael Maguire as his replacement on a three-year deal.
"On behalf of everyone at Wests Tigers I would like to thank Ivan for the work he did during his time at the club," said Wests Tigers chairman Marina Go.
"Ivan oversaw a period of significant change at Wests Tigers and his work will leave a positive impact on the club."
Justin Pascoe – Wests Tigers CEO – had been chasing Maguire and recently flew to Auckland to meet with the former South Sydney boss.
"Michael is an impressive individual and I look forward to working closely with him over the coming years," said Pascoe.
"In all of our discussions he's been professional and has a clear understanding of where we want to take this club and I'm sure that he's the person to lead us to future success both on and off the field.
"Michael has taken sides to Premierships both in Australia and overseas and I look forward to seeing him take our playing squad to the next level."
Wests Tigers players are furious at Cleary and the lack of communication since media speculation began he would be returning to the foot of the mountains to join his son Nathan.
A text message was sent from Cleary to his former players and has been leaked to the media – revealed on NRL.com.
"G'day boys, I hope this finds you well and enjoying your time off," the message read.
"I was writing to you in the hope of beating the press.. to let you know that I will no longer be your coach at Wests Tigers.
"This is an extremely uncomfortable situation for me as I have genuine fondness for the club, and I have loved coaching you all.. I understand that this situation has caused some pain for people that I care about, along with putting the club in an awkward situation… I do not feel good about this.
"I would have preferred to do this in person but time and circumstances have made that impossible. I hope we meet again soon and I wish you all the very best in the future. You have my number and I am always open for a chat if you wish. Iv."
It's a disastrously ugly end to Cleary's time at Concord. The goodwill created by the 'On the Bus' movement has been shattered.
Wests Tigers fans have long memories.
@woodward_curtis