What my first trip to AAMI Park taught me about Billy Slater and the people of Melbourne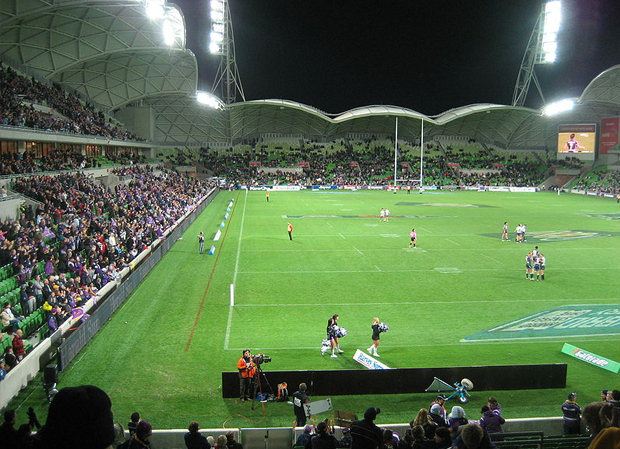 BY CURTIS WOODWARD
@woodward_curtis
There are few modern sports icons that can continuously bring a crowd to their feet. Winx is one, Ricky Ponting coming out to bat at first drop is another. As a New South Welshman, I never really thought of Billy Slater in that category.
Then I went to Melbourne last week.
It wasn't my first trip to the Victorian capital and it won't be my last. It was however my first time to AAMI Park. Slater's last home game, potentially last match ever and a preliminary final was enough for me to head down (take note Sydney – you can travel to stuff).
I was expecting the NRL to be drowned out by the AFL match at the Melbourne Cricket Ground next door – Collingwood Crows against the Richmond Lions or something. But it didn't happen. Yes there were thousands more fans across the road but it didn't matter. It was all one big organism.
So I headed into AAMI Park.
What a gorgeous rugby league venue. Built, specifically, for our game.
In the lead up, some questioned whether they'd fill it. I never had a doubt. AAMI Park became a swarming mass of purple. Breathing as one. Shark soup for dinner.
I'd heard all the stories about how much Victorians loved Slater. The way he attacked the ball, cut left, cut right, killed every bouncing ball like a kamikaze pilot. He played like them. Respect.
But then I felt it myself.
I didn't see it or hear it.
The goose bumps swarmed my skin as soon as Slater's name was read out in pre-match. This was their guy. Their baby. As Victorian as they get.
I felt it.
Then it hit home. No wonder 25, 000 Storm fans lived his every action.
He just looked faster than everyone else. He moved differently. Cronulla would kick down field and the locals would rise in anticipation: "Commme on Billlllllly!"
Everything he did was applauded. Every step was worshiped. Every "mark" brought an 'Oooo' or an 'Aaaaaah'.
It started with only something Slater could do.
With nobody around him, Slater peered into the clear Melbourne sky and at the ball that was looming. Instead of taking it like any normal human being, Slater went up and met the Steeden. He completed a 360 and had enough time to dart away from the nearest defenders. Storm fans clapped not knowing why or what they'd seen.
What followed was Slater's usual chaos. A shoulder charge on Sosaia Feki to save a certain try. Tries of his own, one for a mate.
Age has almost no barrier for men like Slater. How could it when you have a few dozen thousand followers willing your every play?
But at the end of the day – all rugby league players must retire. Getting old is a bitch. And so, Slater is retiring.
Billy Slater speaks on his successful appeal. #9NRLFootyShow pic.twitter.com/3RDrw7f6SV

— The NRL Footy Show (@NRLFootyShow) September 27, 2018
Something else caught my eye as the time ran out on Cronulla's season last Friday night. It was the legacy that Slater leaves behind.
The Storm are a machine that will continue to chug after Slater retires but he has created what fans expect from their footy team down in Melbourne.
As Slater thrashed and slashed, giant prop Nelson Asofa-Solomona prowled the sideline, other bench forwards burnt rubber on exercise bikes, Craig Bellamy barked from the box and men like Munster and Croft watched.
They watched Slater.
In my mind, Slater is the best fullback to ever play the game. He is an Immortal. Not now, but some day.
The Storm will roll on without him once Sunday comes and goes but nobody will ever achieve what Slater has in an Aussie Rules stronghold.
💜 @billyslater's incredible legacy 👇 #WeGoAgain pic.twitter.com/hTefESVU3p

— Melbourne Storm (@storm) September 21, 2018
Slater breaks down sporting and cultural barriers as much as he breaks down defensive lines.
He is a true master of our art.
That's because nobody has ever played like him.
Cameron Smith has wined and dined Melbourne with his laid back personality and footy genius.
Slater has done it through pure entertainment.
The NRL owes Slater, every day, until the day he dies.
@woodward_curtis