The good, the bad and the ugly: Why grand final week is playing right into Cam Smith's hands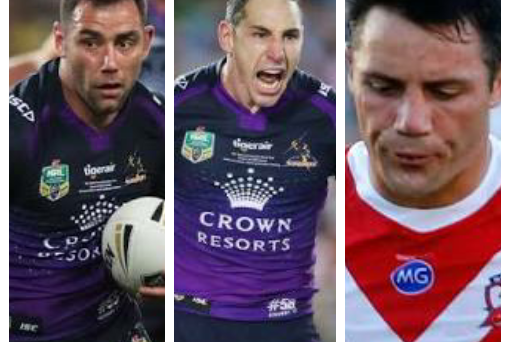 BY CURTIS WOODWARD
@woodward_curtis
On the road to the NRL grand final, somewhere between Melbourne and Sydney, three weary gunslingers peer into each other's souls: the good, the bad and the ugly.
Many have travelled through this barren wasteland – few survive.
The bones of fallen football teams scatter its sands. Balmain Tigers 1988 and 1989, Brian Smith's Dragons, Darcy Lawler and the Magpies. The silence is deafening. Nobody wants to celebrate with the vanquished. Yet they keep coming. Year after year. They know if they survive, a rich reward awaits.
The streets of Sydney run gold with beer, fresh food as far as the eye can see, strangers wear your colours as they cheer from the rooftops and the lush green grass of ANZ Stadium.
This is why they fight.
Right now, three men are at a crossroad.
They know each other all too well.
Melbourne's 'Big Three' put the Storm on Victoria's map.
THE BAD
Billy Slater, a man already on borrowed time. This was to be his last mission before riding into the sunset. We all know how fairytales end in rugby league: Mostly, badly.
A shoulder charge defending Melbourne's line last weekend could rule him out. No grand final. Career over. Thanks for coming. He, of course, wouldn't be the first to be scratched from a decider. Fate has stolen glory from Issac Luke, Steve Roach and Arthur Beetson among others.
Some believe he should play. He's a legend. Wasn't a real shoulder charge. He was trying to stop a try. Sentiment is a wonderful thing.
"It's not a concerning act, it's a brilliant play!"

Gus fires up over the Billy Slater shoulder charge. 🔥#NRLRoostersSouths pic.twitter.com/T7EepcsPxP

— Wide World of Sports (@wwos) September 22, 2018
Others think it's clear cut. He's done.
Roosters custodian James Tedesco wants to face him on Sunday.
"It's hard to comment. In that situation sometimes all you can do is put your body in front," Tedesco said.
"But whether it's legal or not, the judiciary will judge on that.
"He's been a champion fullback for many years, and to come up against him in a grand final would be pretty special."
THE UGLY
Cooper Cronk's shoulder is hanging by a thread and so is his dream of leading the Sydney Roosters against his old team.
How many one-armed men have walked into an arse-kicking contest and come out the other side?
Cronk is the ultimate professional and iced more games for the Storm than anyone cares to remember. That's why the Roosters bought him in place of club favourite Mitchell Pearce.
Storm supporters will never forgive him for leaving.
It was a big call for Cronk to exit. He knew only success at the Tricolours could make his decision easier for people to understand. Now, frustratingly, he might have to watch the grand final helplessly from the sideline.
"I can move it. The best thing to do is just immobilise it – I need to let it rest, need to let it recover then see where it is in a few days time," Cronk told media on Monday.
"I'm not going to go into the details of the injury, at the moment, with all due respect it is on a need to know basis, and at the moment, you do not need to know."
Cooper Cronk is in grave doubt for next Sunday's Grand Final against Melbourne, after scans revealed a severe injury suffered in last night's preliminary final win over the Rabbitohs. #TenNews @caineyten pic.twitter.com/R92AoEkSp8

— TEN Eyewitness News (@channeltennews) September 23, 2018
Storm coach Craig Bellamy would probably prefer an injured Cronk to play.
The game plan would be simple: Hit him until he doesn't get up.
THE GOOD
And then there's 'The Accountant'. The silent killer. Rugby league's smartest and most influential player – Cameron Smith.
While we're all talking about Cronk and Slater, Melbourne's captain goes about his business.
Earlier this season, Smith and Cronk approached each other after a game at the Adelaide Oval. Cronk brushed him. Their friendship publicly put to death.
Smith's ultimate payback?
Holding the Provan-Summons Trophy high above Cronk's head.
We just don't know yet whether Slater and Cronk will be in their boots or their suits.
@woodward_curtis