Sam Burgess once offered Tariq Sims into the car park in front of full dressing room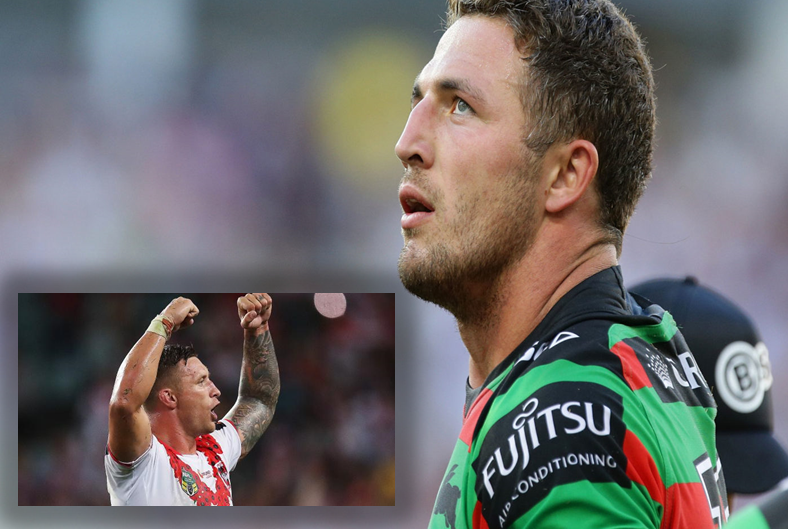 BY A.J NASH
There will be no love lost between Sam Burgess and Tariq Sims this weekend if comments from Fox Sports' James Hooper are anything to go by.
According to Hooper, Burgess and Sims have some legitimate history and it all stems from some Sims "cheap shots".
"He and Tariq Sims have got a bit of history together," Hooper said on Fox League on Monday night.
"Apparently a couple of years ago Tariq put a couple of cheap shots on some of (Burgess') brothers.
"After the game Sam has gone to the dressing room and said 'listen champ, do you want to come outside? Let's meet out the back in 10 minutes'.
"Tariq didn't come out. I was told that story today."
Sam Burgess doesn't hold back on former teammate Robbie Farah #NRLTigersSouths pic.twitter.com/v9PdiY7tFM

— NRL Roast (@TheNRLRoast) July 21, 2018
Back in 2013, Sims backed an idea of a front yard game of footy between the Sims brothers and the Burgess boys for charity.
He said at the time: "I have played against Sam a good few times, but I don't know him. From what I am told, all the boys are awesome blokes, love their footy and a good laugh."
Things might be a little different five years later.
How good has @tariq_sims been?!#NRLBroncosDragons #redv pic.twitter.com/PpatO5T2H7

— The Dragons (@NRL_Dragons) September 9, 2018
It will be interesting to see who is laughing after Saturday night's showdown – Tariq's Dragons or Sam's Rabbitohs.