Billy Slater's dark history as the Melbourne Storm's last line of defense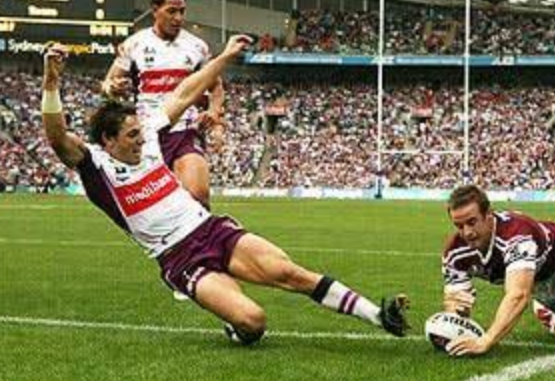 BY A.J NASH
Retiring Melbourne Storm legend Billy Slater has the Australian sports community split down the middle as to whether he should be suspended for the 2018 grand final ending his illustrious career in the process.
Slater will head to the judiciary after what appeared to be a pretty blatant shoulder charge on Cronulla's Sosaia Feki at AAMI Park last Friday night.
Some believe the iconic speedster should be found not guilty as it wasn't your typical front on shoulder charge.
Others however still remember two incidents from the 2008 grand final where a desperate Slater found himself attempting to stop Manly Sea Eagles players from crossing the try line.
It appears Slater has form.
The Sea Eagles flogged the Storm that day 40-0 with a helpless Slater the last line of defense as Manly romped home to a record victory.
Footage from the first half shows Slater sliding in feet-first on two separate occasions. Once on Eagles hooker Matt Ballin and another on opposition winger Michael Robertson.
Both could have caused serious injury.
Robert Finch, who was referees boss at the time, agreed.
"If he should kick the ball out of a player's hands or make contact with a player's head the repercussions could be grave," Finch said after the game.
"It could be a penalty try, an eight-point try, someone could be hurt or a player could be sent off."
#NRL Billy Slater has been charged by the match review committee for feet first tackle but will escape suspension with early guilty plea

— We Need a Sports News Fact Checker (@crowdiegal) May 10, 2010
Billy Slater should be suspended for that nonsense, it's his 'feet first when trying to stop a try' rubbish all over again #nrlmelcby

— shane (@esjay_) March 21, 2013
Billy Slater enters the arena after a long lay off …. feet first of course. #NRL

— JESUS PLAYS NRL (@jesusplaysNRL) March 2, 2016
Slater escaped suspension at the time but was then seen repeating the dangeous technique while representing the Kangaroos at the 2008 World Cup and several other times over the years. He was charged during the 2010 season.
One thing is for certain, Slater will stop at nothing to keep rivals from crossing his line.