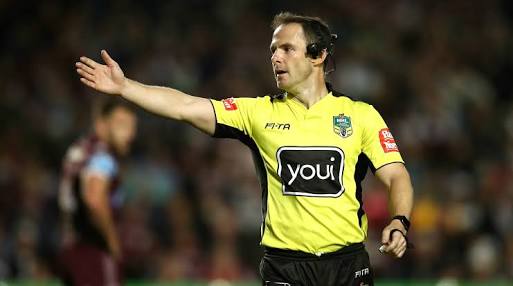 Nothing wrong with crackdown on cheating teams but where's the common sense in our game gone?
May 22, 2018
BY CURTIS WOODWARD
@woodward_curtis
Sydney Roosters enforcer Dylan Napa has broken his silence on the tackle that left mate Ashton Sims sidelined with a broken jaw.
Napa was sin-binned in Sydney's loss to the Brisbane Broncos at Suncorp Stadium but was subsequently cleared by the match review committee.
At the time of the incident, social media went into meltdown. Fans and experts picked their sides and started clanging their saucepans together. Your writer understands the current rules. Napa's tackle didn't have to be intentional. Fair enough. The worry is that there is simply no more common sense in the NRL. Everything is black and white. There is no grey area, anymore. There is one set of stringent rules for all types of scenarios.
But for every single scenario in rugby league, there are thousands more variables. No two tackles are the same. Every defender isn't trying to rip the ball out of an attacker's grasp either.
Rugby league is chaos. You can't weather chaos.
"I've been playing against Korbin since I was 15," Napa said on Tuesday.
"To think I would intentionally go out and try and break his jaw with my head is totally false. I completely understand why people think I would have but I definitely didn't."
Now listen carefully, friends. The following words from Mr. Dylan Napa are very important.
"I went in for a left shoulder tackle, as I went down he shifted to my right but I already committed."
You can hear them running from the hills.
'What about the children? What about the mothers watching at home? Will they let their kids play footy? You can't head-butt other players!'
What was Napa meant to do? Freeze time, move himself out of the way of Sims and let him passed?
Where's the logic? Penalty sufficient. Move on.
The problem though is much deeper than Napa's tackle.
This footy fan is totally behind the officials as they resist the temptations of the coaches on the dark side. Referees are well within their rights to continue the crackdown on team's willing to give away penalties to gain an advantage – particularly when said opposition is on the attack. The issue is with the interpretations of everything else. Remember that thing called 'fabric of the game'?
A few weeks ago Penrith and Canterbury belted the piss out of each other for 80 grueling minutes at Panthers. Both sets of forwards were emotional and pumped up. David Klemmer and Trent Merrin started going at it. Referee Grant Atkins pulled them aside and told them to pull their heads in. No penalties. Amazing!
Then the very next week, Dallin Watene-Zallezniak is sin-binned for pushing by referee Ashley Klein.
In a black and white world, both are penalties at worst but in rugby league neither "incidents" deserved another thought.
The same too can be said for dummy halves throwing the ball into prone defenders to get a penalty. It used to be play on. If your hooker was stupid enough to pass the ball into an idle player minding his own business away from the ruck then it was his fault. But by the letter of the modern day law, it's a penalty. Where's the c-o-m-m-o-n sense?
NRL CEO Todd Greenberg says he has spoken to the referee's department and if it continues, a penalty will be given to the other team. No! You've just painted over the black with a white! It should never be a penalty. This is where we are at.
Granted Greenberg's move will guarantee we won't see this cheating again but it also shows a far greater issue. We've overcomplicated a simple game. They have hired referees' bosses, advisors, former coaches, trainers, consultants, love gurus and witch doctors but have only managed to bamboozle themselves with buzz words like 'key indicators'.
What the hell is a 'key indicator' anyway?
The NRL is doing a fine job in most areas but we have to simplify the interpretations of the referees.
And bring back two very basic words… common sense.
@woodward_curtis