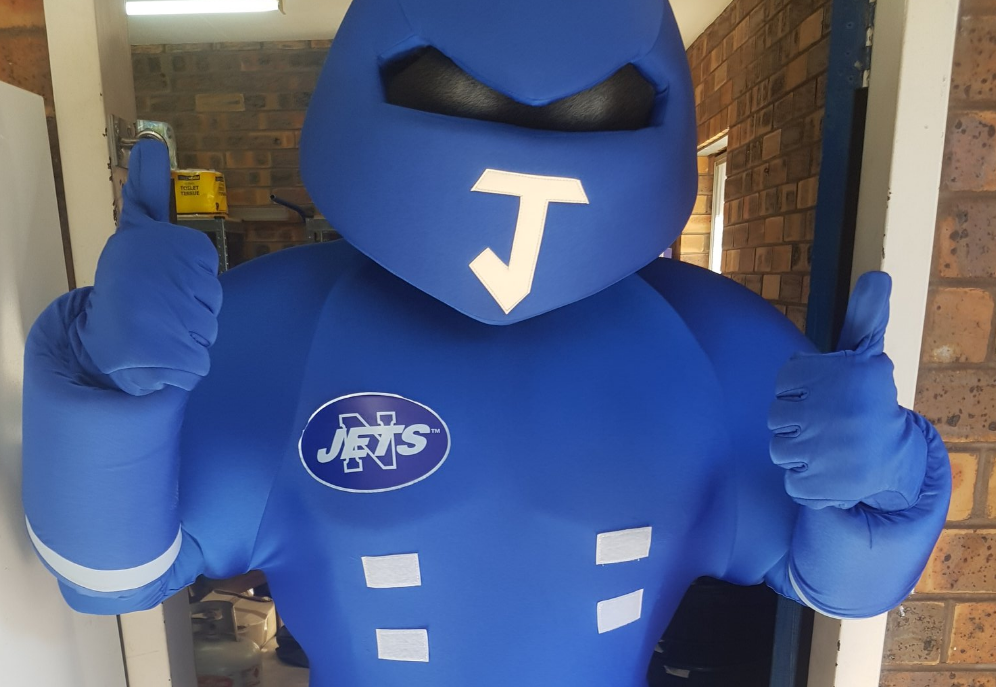 How Henson Park helped me travel through time on a magic carpet called rugby league
May 7, 2018
BY CURTIS WOODWARD
@woodward_curtis
On Saturday afternoon I experienced something absolutely strange. Almost too out there to put into words. I, wait for it, stepped into a time machine and travelled back to the early 1980's.
Before you tell me to put down the peyote – let me explain.
My journey to this other time began with a train ride. In thirty minutes time I would be at Sydenham station but moving further back into the past. The closer I got the more Newtown Jets jerseys I saw. Fans from all over had begun their weekly pilgrimage to Henson Park. You could also tell which ones were there in the good old days. Their hair a little whiter and their jerseys worn. They could walk this route backwards with their eyes closed.
Your writer isn't too afraid to admit he was lost and only saved by an off-duty taxi driver (thank you stranger).
Before I knew it, I was there.
The time machine was in front of me. I stepped through. Euphoria took over. Rugby league nirvana filled my veins. I couldn't help but feel like this was the game I fell in love in its purest form. By kick-off, the crowd had swelled and the energy crackled and hummed with every moment of Newtown against the North Sydney Bears.
Behind the canteen a man cooked, teasing the air with the aroma of steaks and sausages.
Beer lines were long but nobody seemed to mind.
A mad man rattled around the ground on his bike waving a Jets flag every time they scored with dozens of kids in tow.
I took the chance in the second half to leave the commentary box and slide into the crowd. Nothing at Henson had changed. This was a living, heaving, fire-breathing dinosaur. Just as I was about to head back upstairs, the Jets busted Norths wide open. The crowd, like only they can do at a suburban venue, went up. Try to Sione Katoa! Or was it 'Chicka' Ferguson?
The magic of Henson Park (also known as the Marickville Astrodome) had let me in for a few short hours.
This mighty place also proves that the more we change, the more we stay the same.
Rugby league can never lose places like this.
Henson Park on a Saturday arvo. Brilliant stuff. #NRL 🏉🏉🔥🔥 pic.twitter.com/rf0T02vbDS

— James Smith (@JamesSmith1001) May 5, 2018
Scenes … one of the greatest tries ever seen at Henson Park. Jets 22 Bears 18, 5 to go #weare8972 @newtownrlfc pic.twitter.com/G5FaeA7uFi

— Jim Morrison (@JimMorrison07) May 5, 2018
He's back! Gus returns to his old stomping ground, Henson Park.#IntrustSuperPremiership | TODAY 1pm AEST pic.twitter.com/uMudkKGn5X

— Wide World of Sports (@wwos) May 5, 2018
Suburban rugby league is in our DNA and it shouldn't be eradicated to suit the suits.
Newtown legend Phil Gould sat quietly on the sideline prior to Channel Nine's broadcast on Saturday. He would have spent at least five minutes alone at a card table on halfway, drinking in the memories of a place he called home in the early '80's. Broke my nose there. Set up the match winner against Manly there. Watched Tommy whack 'Sterlo' over there.
And then he looked up to the hill. Thousands of people. Hundreds and hundreds of kids.
Rugby league is at its best when you don't have to think.
You just feel.
Rugby league must never ever walk away from its history.
That history continues in a few weeks when Steele Sports take their microphones to Lidcombe Oval when the Western Suburbs Magpies host their annual 'Return to Lidcombe' day.
See you there for a beer and a steak sandwich.
Oh… what was the official attendance on Saturday?
8972.
@woodward_curtis
Catch Curtis and The81stMinute Call Team this Saturday from 1pm on steelesports.com.au for Mounties against the Jets!