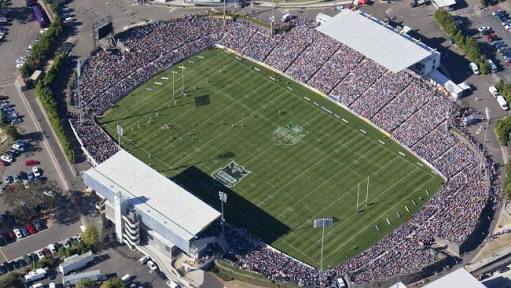 Four hour round trip? Wests Tigers fans in Macarthur won't travel to games at Western Sydney Stadium
May 11, 2018

BY CURTIS WOODWARD
@woodward_curtis
Inner city Wests Tigers fans are set to be the big winners if the club moves future games to the new Western Sydney Stadium in Parramatta.
Fairfax is reporting that the organisation is considering moving the majority – if not all – their games away from Campbelltown Stadium and Leichhardt Oval.
ANZ Stadium won't be available from 2019 as part of its redevelopment while the Western Sydney Stadium will be in full swing by then.
"We'll see what opportunities exist and how they stack up against our strategic objectives of continual fan engagement," Wests Tigers CEO Justin Pascoe told Fairfax.
"The appeal is it's a brand-new stadium with brand-new facilities for the members, corporates and players to use pre and post-game.
"Everything is on the table at the moment and no decisions have been made.
"This is the fifth year of a 10-year deal with ANZ Stadium. But works at the stadium are due to begin at the end of 2019 so we're looking at what other opportunities there are."
Fans in the Macarthur region have reason to be frustrated by such a move.
Instead of meeting with local councils about additional games in their heartland areas and possible discounts on venues – they would first prefer sit down with WSS.
Club owners Wests Ashfield and fans in the city only have a short drive up the Western Motorway to Parramatta however diehards in the South West will find it difficult to get to games particularly if they're using public transport.
Top 100 Indigenous players in rugby league history
A Wests Tigers tragic from Spring Farm has told The81stMinute that he and his family won't even consider travelling to Parramatta for possible home games.
He has asked to remain anonymous. A member of a several Wests Tigers fan sites, he fears backlash from fellow supporters.
"I don't drive so it would take us two hours to get to Parra," he told us.
"We would have to take a bus just to get to Campbelltown [train station] and that can takes thirty minutes some times by itself. It's too much mate. You have to change trains and half the time they're not running on weekends, anyway.
"I've got a family. Two little girls. They love the Tigers but it just feels like they [Wests Tigers] couldn't care less about people out here [in the Macarthur]."
A quick check on transportnsw.info shows that to take public transport from Camden to Parramatta takes around 1 hour and 45 minutes. That's almost a four hour roundtrip for a supposed home match and that usually takes three trains – not two – to get to Parramatta.
@woodward_curtis
Catch Curtis Woodward and The81stMinute Call Team this Saturday from 2pm on steelesports.com.au for Mounties against the Jets!