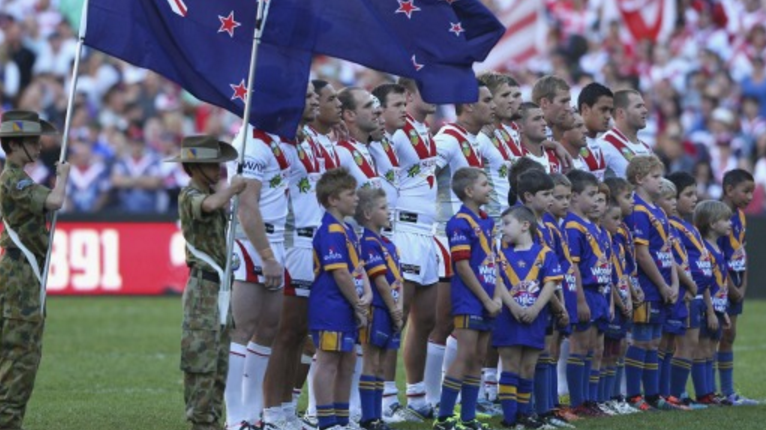 Why we should always play the greatest game of all on Anzac Day
April 24, 2018
BY CURTIS WOODWARD
@woodward_curtis
It is just after 4pm on Wednesday afternoon as 34 players stand side-by-side inside Allianz Stadium. One group is draped in the famous Red V – the other in the Tricolours of the Roosters.
They lock arms and breathe deeply. Some twitch nervously, others lift their heads into the sky. Closing their eyes they bask in the warm April sun. You can hear a pin drop.
The moment isn't lost on any of them. How lucky they are to live in a free country and play professional sport as a living. Young, healthy, full of life. And that very same sun that beats down on them tomorrow is the same one that once sat above our fallen soldiers.
This sun – forever constant – once gave a moment's peace to those sent to fight in the Boer War, World War I, World War II, Korean and Vietnam Wars. These soldiers dreamt of their homecomings. Holding their partners, their kids, mothers, the feel of soft linen and their own beds. To be able to walk down their local streets and all those familiar faces no matter if they were from Kogarah, Wollongong or Randwick.

Many never made it back.
How lucky we are to love a game like rugby league.
But we can only do so because of the ultimate sacrifices of fellow Australians we will never meet.
We can however thank them and we do that through paying our respects tomorrow.
Those fallen soldiers weren't asked to be born when they were but it became their duty to defend this country. The baby-faced Dragons fullback Matt Dufty could easily be one of those storming over a trench under a storm of bullets not knowing if these will be his final moments. It could be Sargent Boyd Cordner leading his men through a heavily fortified Viet Cong outpost instead of a team of mere footballers.
Bob Tidyman, an Eastern Suburbs International winger, enlisted for the First World Wa rafter his brother died on the fields of battle. He fought at the Somme with the 19th Battalion. He died on the Western Front. Private R.B Fitzpatrick, a referee from Sydney, found a rugby league membership ticket on Tidyman's persons and buried the body despite being under German fire.
Dragon Spencer Walklate died on Muschu Island with the Z Unit Commandos. It's suspected Walklake and most of the command were executed by the Japanese.
What life would they have lived if there was no war?
How many first grade games would they have played?
Those soldiers could be anyone of our children.
Some think we shouldn't play sport on Anzac Day. Why shouldn't we show our gratitude? Why can't we say thank-you?
We travel to the footy with our families and support the teams we do because of what those before us did.
This just isn't another game.
It's our chance to pay our respects.
And when The Last Post is played, we stand tall, backs straight and close our eyes into the sun.
The same sun that those before us felt when they were fighting to defend Australia.
@woodward_curtis