Trent Robinson risks losing his job if he doesn't make a tough call on Jake Friend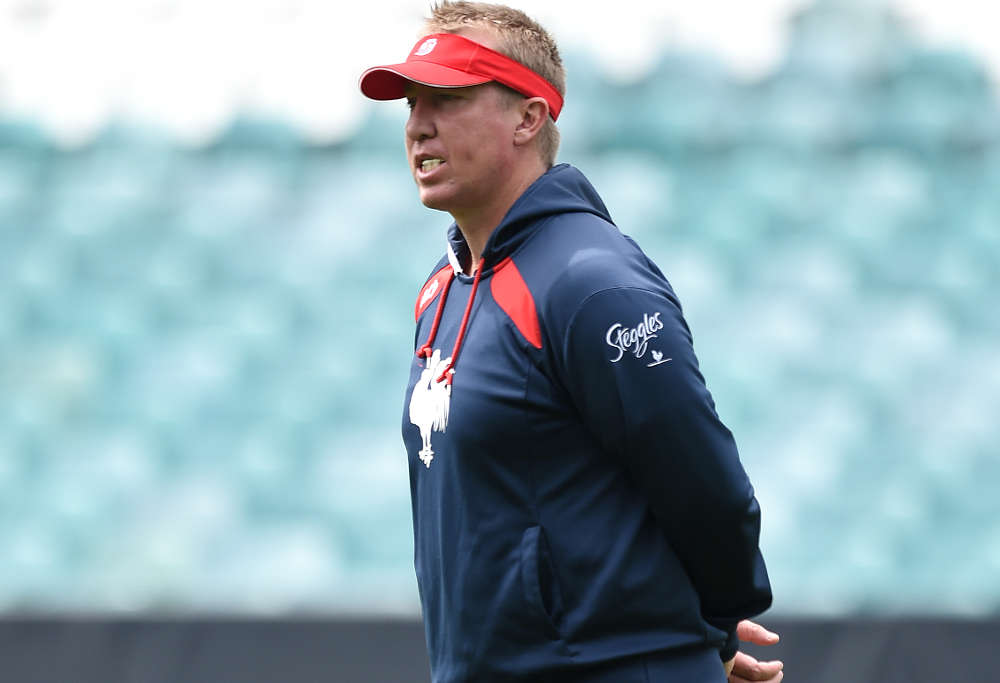 BY CURTIS WOODWARD
@woodward_curtis
Trent Robinson is revered as one of the top rugby league minds in the world. He has won a premiership, several minor premierships and is the coach of arguably the most powerful NRL franchise in all the lands.
The Sydney Roosters started 2018 as premiership favourites after luring legendary Melbourne playmaker Cooper Cronk to Bondi (Cronk's fiancé may have helped too). Every club would receive an A+ in recruitment on Cronk's credentials alone. But not every club has a chairman like Nick Politis. So on top of Cronk, they also went out and picked up a fullback from Wests Tigers in James Tedesco. You know the bloke. Fast as a bullet? Leaps tall buildings in a single bound? Tedesco? You know him.
You add Cronk and Tedesco to a squad that already features Boyd Cordner, Luke Keary, Blake Ferguson, Latrell Mitchell, Sio Taukeiaho, Jake Friend, Jared Waerea-Hargreaves and you'd be hard-pressed finding a single Roosters fan that doesn't think a premiership is coming in the next two seasons.
In a perfect world – for Roosters supporters anyway – they win the competition and get to listen to Cronk AKA William Shakespeare give a herculean speech about stepping outside of yourself, finding peace, searching for oneself, yada yada yada.
But the NRL isn't a perfect world. It's an unforgiving, treacherous place.
After eight games, it's obvious to see that the Roosters are struggling to realign their offensive patterns to suit Cronk's style. They have also failed to flag the issue of Friend at dummy half.
In Melbourne, Cronk had the irrepressible Cameron Smith to play off. The Storm's attack came off the back of Smith and his ability to control the ruck with ball in-hand. Cronk has found it impossible to work with his new hooker because Friend doesn't lay the same platform for him. In fact, Friend doesn't lay any platform. He's a tireless defensive worker who offers nothing in attack.
Off course, it doesn't help that certain Roosters props aren't performing like the players they once were – namely Jared Waerea-Hargreaves and Dylan Napa.
Unfortunately, this all comes back to Robinson. He is the one that must make Cronk work at the Roosters. He's the one that must make the Roosters work for Cronk. It's Robinson who didn't foresee Friend's inability to create opportunities and it's on Robinson that the club hasn't refreshed their front row rotation.
Friend is a club great and spilt barrels of blood for the Tricolours. But the Roosters have backed themselves so far into a corner with Cronk that it won't be long before Robinson has no other choice but to tap the International rake on the shoulder. Friend worked when the halfback was Mitchell Pearce. He doesn't work for Cronk and that's all Trent Robinson.
I wrote about this for Fox Sports in November: "For Cronk to succeed at the Roosters he needs more than a dummy half that is happy to hang his hat on how many tackles he makes. In week one of the finals — a game the Roosters won by the skin of their teeth against Brisbane — Friend ran twice for 10 metres. In round 26 he ran for six, only nine in round 25 and 30 in round 24. These numbers should worry Cronk and the Roosters."
The numbers haven't improved in 2018.
"Absolutely squashed!" #NRLDragonsRoosters #NRL pic.twitter.com/8CFdpjHOpB

— NRL (@NRL) April 25, 2018
It's remarkable to think that Robinson is the most under pressure coach in the NRL right now.
Politis won't stand for mediocrity for too much longer. He's a ruthless businessman with many a coaches tombstone out the back of his palatial mansion.
Robinson and Pearce were great mates. That changed when Robinson brought in Cronk. Unless something drastic happens on-field, Robinson will be losing another friend.. in Friend.
It's either that or the coach loses his job.
We'll finish with a quote from the movie American Gangster.
"Success. It's got enemies. You can be successful and have enemies or you can be unsuccessful and have friends."
@woodward_curtis