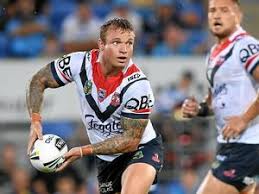 Roosters fans wanted captain Jake Friend hooked during Souths loss
April 13, 2018
Sydney Roosters skipper Jake Friend might be hurting just a little more on Friday morning after his team went down to rivals South Sydney at Allianz Stadium on Thursday night.
Adding to the loss, Friend had a horror night individually. At one point with the Roosters on the attack and Cronk calling for the ball, Friend went the blindside and put a nothing chip kick in behind South Sydney's line only for it to be caught in-goal by Alex Johnston.

Angry Roosters fans in front of Trent Robinson's box turned to the coach demanding Friend be hooked.
Friend also gave away a number of penalties helping Souths out of their own end.
Twitter wasn't any kinder to Friend:
Jake Friend been a great servant , but we have been better all year when he's been on the pine !! Fact

— Steve Kidd (@kid11y) April 12, 2018
Jake Friend is really doing himself no favours #NRLRoostersSouths

— Billy McGee (@billymcgee93) April 12, 2018
i reckon jake friend would REALLY like england

— Aaron Wallace (@wallyscr) April 12, 2018
https://twitter.com/seanqlder_dolly/status/984390559144947712?s=19
Chooks fans filthy with Jake Friend. They turned to Robbo in box and demanded he be hooked … #NRLRoostersSouths

— christian nicolussi (@mrchrisnico) April 12, 2018