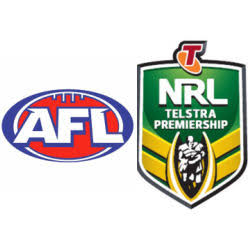 Doomsayers think again as NRL smash AFL in TV ratings
April 3, 2018
0
By
The81stMinute
BY A.J NASH
The ongoing campaign against the NRL from doomsayers might have to be re-written with the NRL enjoying an early season domination against their biggest winter rival – the AFL.
When it comes to TV ratings, the NRL is flying while the AFL has sputtered out of the box.
AFL viewership on pay TV is down almost 6% after two rounds of their competition while the NRL has gone the other way and is up 6%.

In total, across both pay TV and free-to-air, the NRL thrashed the AFL 1.9 million viewers to 1.5 million. The NRL continues to outrate the AFL.
Adding to the AFL's woes is the mediocre ratings in Australia's biggest market (Sydney) and up in Queensland. Despite the millions of dollars spent investing in New South Wales, just 44,000 people watched the Sydney Swans in the Harbour City.
Perhaps the anti-NRL campaigners should think again.
Educated fans know what's really going on.